I n t e r a k t i o n s - L a b o r
Scot Cotterell
(Tasmania)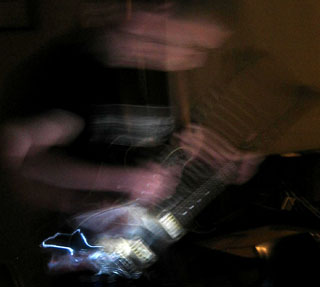 Scot Cotterell is an Australian artist currently based in Hobart, Tasmania and working across the fields of installation, live audiovisual
composition, moving imagery and still imagery. Informed by ideas of perception, action, identity and intervention in a highly mediated world,
his work manifests in a variety of ways traversing projection, event, curatorial projects,performance, installation, image and object. Scot has
worked extensively with a cross-media approach and moves between an appropriation-based media and performative practice to a more
process-based, personal and responsive approach. Scot's audio project User has been presented at the ElectroFringe festival (2005-2006) and the
Liquid Architecture National sound art Festival (Australia) and broadcast on ABC Radio National Australia, and community radio in several
countries. Scot has been involved with translocal performance pieces with Nancy Mauro-Flude in Amsterdam. Scot has curated exhibitions and
performance for CAST Gallery Hobart and Boiler Room: National Improvisation Laboratory and is an active board member of Inflight
Artist-Run Initiative and The Plimsoll Gallery, University of Tasmania Centre for the Arts.
Scot's attendance at this project has been assisted by the Australian Government through the Australia Council, its arts funding and advisory body.