I n t e r a k t i o n s - L a b o r
Nancy Mauro-Flude
(b. Australia; Amsterdam, The Netherlands)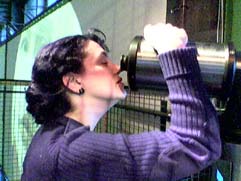 Nancy is a Net.based performance installation, New Drama and Dance Media Performer, Maker and Writer.
Research interests include: history of political cabaret, vaudeville and dance theatre, theories of embodiment, getting inside machines (software or hardware) and touching their inner parts.
Artist Statement:
I use technology to gain new understandings of time, place and space, a way of exploring how things might be different. The shifting of value systems, contradictions, possibilities and migration of identity, and a dynamic relation to place is dominant for me.
Linda Dement describes my work as 'a generative collision of net technology, riot grrl, dance, open source programming, feminism, vaudeville and the concerns of the psyche, her work weaves together transcendent practices of many kinds while feeding from the rot and beauty of contemporary daily life' (Filter Magazine #59. 2004).
Bio:
Raised in Tasmania. A childhood spent in acrobatics, dance theatre, in spare time editing 4-track analogue tapes of Kate Bush with a pair of scissors & sticky tape, and making pretty insignificant patterns on her commodore 64 keyboard. She made her debut in dance theatre as a soloist in Sydney. Via close escapes from tai-chi ballet and Grotowski inspired groups, Asian cabaret circuit, activism. In 1999 she came to Europe to perform in a prominent dance theatre company but chose a more autonomous pathway in order to sustain a basic amount of freedom. Singer in punk noise bands such as: la coliere`Sale, mechanical vaudevillian 'Toydeath' as SG Ballerina, a group that circuit bends & re-purposes children's electronic toys. She began to pursue research in experiential anatomy and physiology at Institute of Somatic Movement Studies. From 2001-4 she was invited to be an artist participant at DasArts, continuing to research dance and theatre, coming into contact with performance software, i.e. KeyWorx, pd, Lisa, she began inter-mixing Live and online performance. Mentored by Shu Lea Cheang and Michelle Teran & Linda Dement, she made and performed various projects such as: "sister Outsider's Operation Manual for the Heart", "electric-theatric Operation", and "sister O media divination". Her work with sister O project has been produced in Australia, Asia, South America and Europe, this was featured in "art& d: research and Development in Art" v2/Nai publishers: Rotterdam (05), ŚConnected : Live Artą WaagSociety Catalogue (05), and in dance journal "Writings on Dance" #23 - vibrant bodies/ complex systems.
She collaborates with director Edit Kaldor on theatre piece 'Drama', and last year also premiered the piece, "All of Us (girls) Have Been Dead For So Long". She holds a Post Grad Diploma from DasArts: Advanced institute of Theatre and Dance Studies [2004] and is an 1:1 Honours scholar from the Department of Performance Studies, The University of Sydney [2000]. A Masters Candidate in Media Design at Pete Zwart Institute. An associate researcher at the Institute for Networked Cultures, host on pTp Radio Patapoe she is also a core developer of the annual /etc eclectic tech carnival.
website: http://sistero.sysx.org/