Laboratory
Performance and Interactive Technologies
Facilitated by Johannes Birringer
Francisco Nunes Theatre
Wednesday 18June - Sunday 22nd June
18:30 to 22:30
.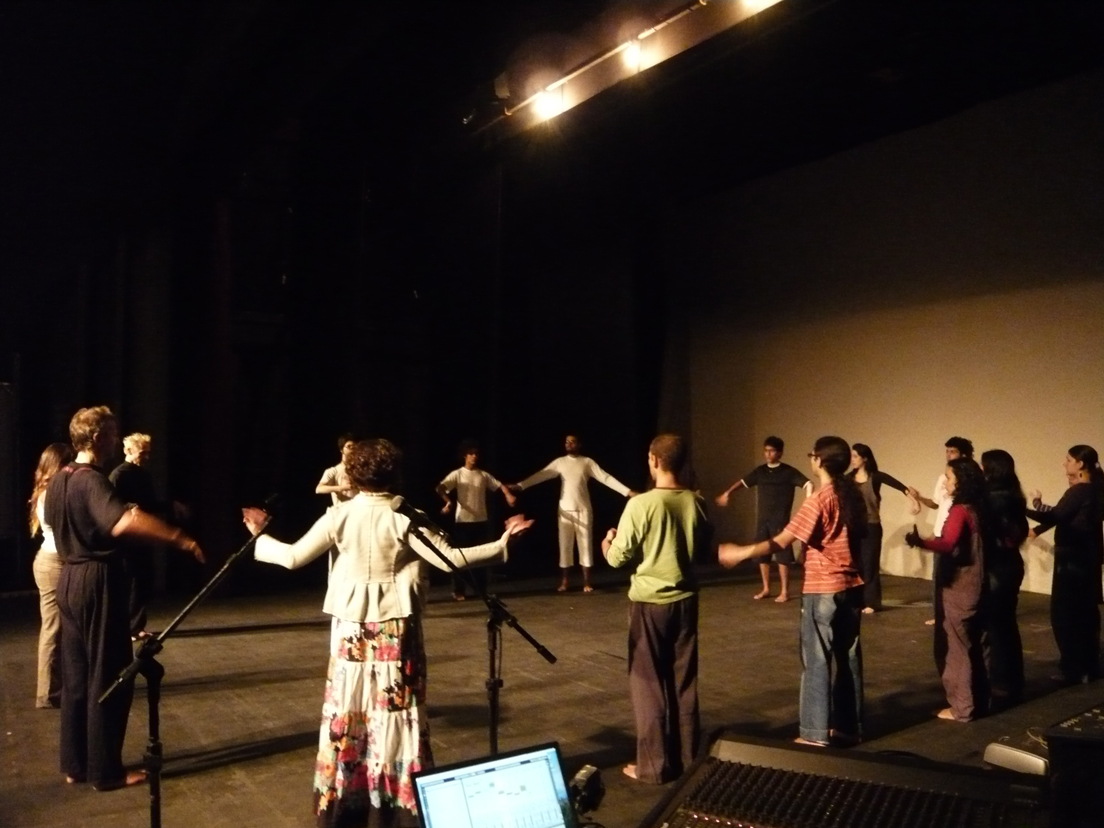 WORKSHOP PLAN


Wednesday
18.3o - 20:00 Welcome/Introduction
Theatre and Engineering
1. "Open Score"/Bob Rauschenberg & Billy Klüver;
2. L'instant decisif, interactive dance with Katsura Isobe, sensor programming and photography by Paul Verity Smith
3. Marion Tränkle, ANI_MATE theatre machine
20 :15 - 21:00 Create lab environment, introduce tools and themes
21:00 - 22:3o Collaborative Method: writing/composition/mise-en-scène
"Physical Camera" experiment with actors, dancers,
and visual artists. Live Sound (computer)
Thursday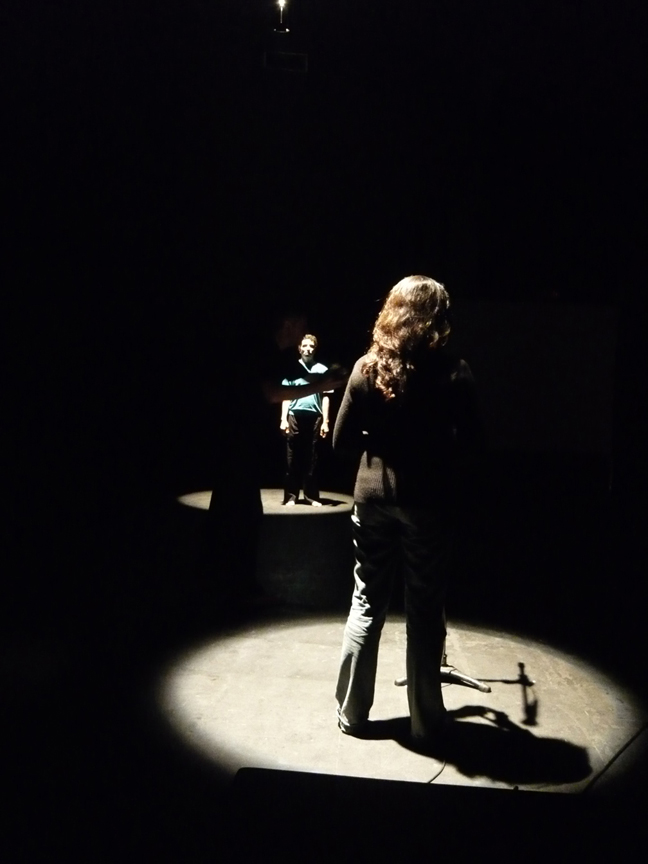 18:3o -20:oo Sources and Materials: Performance and Interaction
Excerpts from Brasil move Berlim: "Wagner Ribot Pina Miranda Xavier le Schwartz Transobjeto" by Wagner Schwartz
"Verissimilitude", by Zikzira Teatro Fîsico, BH

20:30 -22:30 Collaborative Method: composition with live camera, projection, microphone and objects in space
Friday
18.3o-20:oo Sources and Materials
Sandro Henrique with Luciene Bernardes: "Metavideo"
Luca Forcucci: Sound and Spatiality
(for sound work listen to "the cube")
Sources and Materials: Klaus Obermaier, Apparition & kondition pluriel: extrats du travail: schème II & entre-deux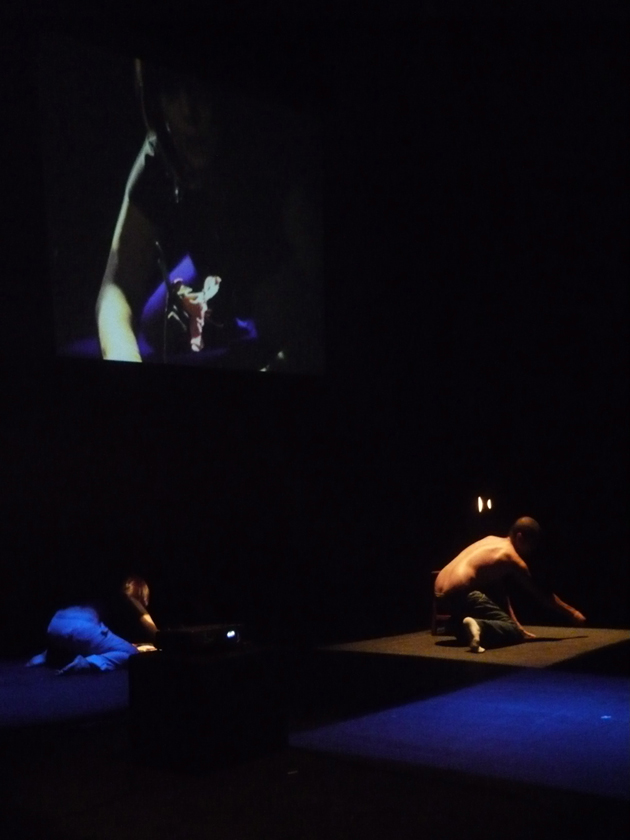 20:3o-22:3o Collaborative Method:
Performance-installation strategy and scenography.
Use of video projection in performance, video as light, and questions of video/cinematic space/multimedia theatre space. Narrative and non-linearity.
Designing Visual Strategies


Saturday
18.3o-20:oo
Telepresence Experiment (Belo Horizonte / Rio de Janeiro)
19:oo-20:3o Movement, dance, and telematic interactivity
20:3o-22:3o Collaborative Method:
Composition with telepresence and distributed space

Sources and Materials. (Transmute: Intimate Transaction)
Film Excerpt from "Intimate Transaction"
Sunday
18.3o-20:oo
Quasi-Cinemas (Hélio Oiticica)
Movement A: Ulf Langheinrich, Toshiko Oiwa
Film Excerpts from Movement A
Patricia Siqueira: Chão
20 :oo-22:3o Space, Physics, Organization, Distribution
Collaborative Method: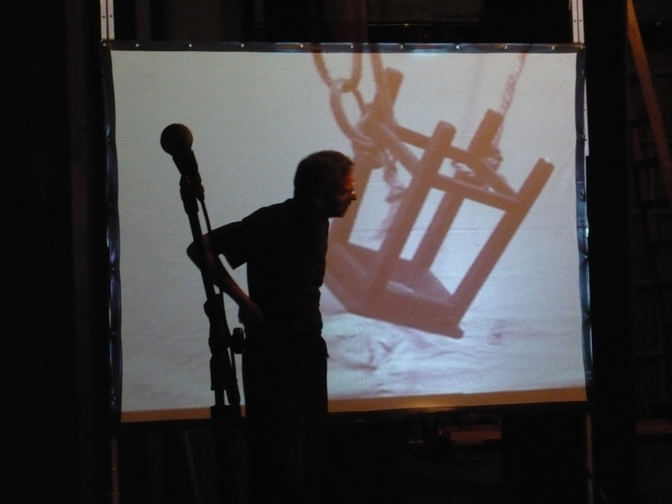 suspended projected transobjeto.
All Photos (c) L:uca Forcucci
Notes
For Luiz Carlos Garrocho's website blog on the workshop and critical ideas on "Performance e Tecnologia", go here. For his commentaries on the workshop, see (1)
Textualidades Cênicas Contemporâneas ; (2) Os Novos Jogos da Performance ; and (3)
Paisagens Sonoras Imaginárias

Further notes on design and performance concepts are published on this site.