I n t e r a k t i o n s - L a b o r
Michèle Danjoux
(Great Britain)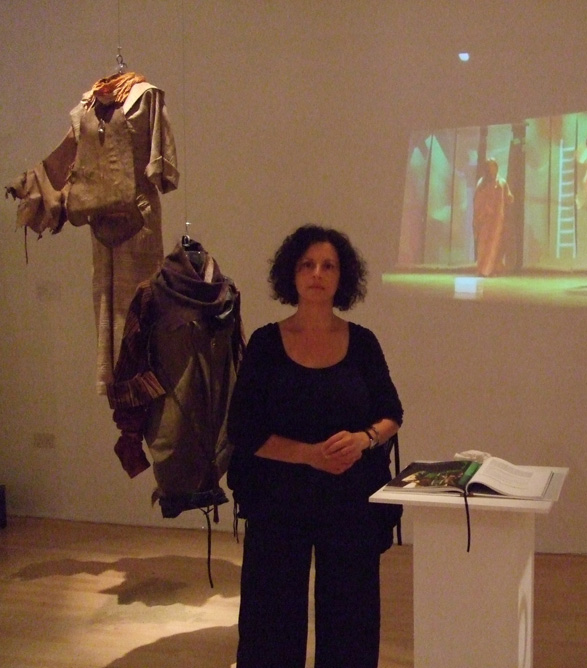 Michèle Danjoux is a fashion designer, illustrator and Principal Lecturer/MA Course Leader in Fashion at De Montfort University.
During her time as fashion educator, she has collaborated on a number of cross-disciplinary and publicly exhibited projects placing fashion design in a wider arts and cultural context, including Archaeology Revealed, Satellites of Fashion and Textures of Memory.
Her design films have been shown at Wearable Futures (Newport), Digital Cultures (Nottingham), and DRHA (Dartington). The "Klüver" film installation of emergent design was exhibited at the Prague Quadrennial's "Design in Motion" festival, June 2007. She is co-director of the DAP-Lab and the lab's production company, dans sans joux.
Her Teshigahara collection premiered at Laban Centre, 2007, during the premiere of the interactive dance performance Suna No Onna, which was developed also during a residency at Interaktionslabor 2007. Her collection was shown at "Inside Out," Bonington Gallery, Nottingham, in 2008. In 2009, she is co-directing the UKIYO research collaboration of the DAP-Lab and Keio University/INETDANCE Japan. The new choreographic installation, UKIYO, featuring her audiophonic wearables, was premiered at the Antonin Artaud Centre, Brunel University, West London, on June 1, 2009. then went on European tour in 2010 and a new version premiered at Sadlers Wells in November 2010.

Her new production with DAP-Lab is a dance opera, "for the time being (Victory over the Sun)", created as an homage to the 1913 futurist Russian opera Victory over the Sun. This summer of 2013 she is publishing a new essay on the "Sound of Wearables" in Leonardo. Her audiophonic designs for the DAP-Lab ensemble, which she created in 2008-2012, were featured in the May 2013 issue of the German Tanz magazine.
websites: