THEORETICAL WRITINGS
Interaktionslabor / Performance Academy
2012
no.1 Gesture and Politics (Johannes Birringer)
no. 2 From Hydrophonics to Interactive Sound Fountains (Johannes Birringer)
no. 3 Bauhaus, Constructivism, Performance (Johannes Birringer)
no. 4
Press Release for Interaktionslabor and Performance Academy 2011
Research Materials for the 2012 labortory:
Exhibitions
Sound Art. Sound as a Medium of Art
ZKM Karlsruhe (Germany)
March 17th, 2012–January 06th, 2013
http://soundart.zkm.de/
http://soundart.zkm.de/en
The exhibition "Sound Art. Sound as a Medium of Art" presents for the first time the development of sound art in the 21th century at the ZKM | Media Museum and in a public space. From Futurism to Fluxus, through to Twitter sonifications, the ZKM charts the history of Sound Art during the 20th century. However, focus is placed on contemporary practices: with works from 90 artists from which approximately 30 new productions from recent years will be represented, the visitor gains insights into the unique sound cosmos of contemporary art. The sound world visualizes its own exhibition architecture, and the exhibition visitor himself becomes the generator of sounds.

Visual experience dominates in numerous exhibitions. "Sound Art. Sound as a Medium of Art" emphasizes auditory experience and transforms the visual experience. The visitor is thus provided with the opportunity to become acquainted with an entirely new sound cosmos, which neither radio, film nor the music industry has been able to establish to such an extent.

The Futurist painter and composer Luigi Russolo published the musical manifesto "L'arte dei rumori" in 1913 elevating urban noises to the level of an art. In the 1950s and 1960s representatives of musique concrète and the artists of the Happening and Fluxus movement (from Yoko Ono through to La Monte Young) extended the performative aspect of music; hence, in place of composition there could be randomness, in place of music, silence, in place of an orchestra, the sea and in place of the musician, a horse. In the 1970s and 1980s Industrial Noise influenced even pop music, as well as punk music.
At the same time, loudspeakers became the building blocks of monumental sculptures, light and sound were compressed into mobile immaterial environments, inaudible realities were rendered audible in a synthesis of arts and hearing was gauged again by means of psychoanalytical experiments. Sonifications of information and medial communication, sound environments as well as telematic or medial constellations exert an influence on the present-day multiplicity of creative output. In this connection, those political questions in sound art that lead to critical examination of sound and listening, occupy a central place.
The exhibition "Sound Art. Sound as a Medium of Art" makes new sound perceptions not only experienceable in the museum: passers-by may encounter sounds in the three installations located in the forecourt of the ZKM and five installations in public areas around the city of Karlsruhe. In addition, a selected concert program with outstanding performative projects enriches the exhibition: LaMonte Young, Xenakis, Cage and Ryoji Ikeda are representative of the program's broad spectrum. The exhibition's wealth of sounds has also been facilitated by the richness of the archives made accessible to the Karlsruhe public for the first time to this extent. Included are the "unheard avant-garde" from Scandinavia, the Broken Music Archiv from Berlin and curated audiopoints from european archive inventories.

Curator: Peter Weibel Co-Curator / Project coordinator: Julia Gerlach
New book publication
Tanz und WahnSinn / Dance and ChoreoMania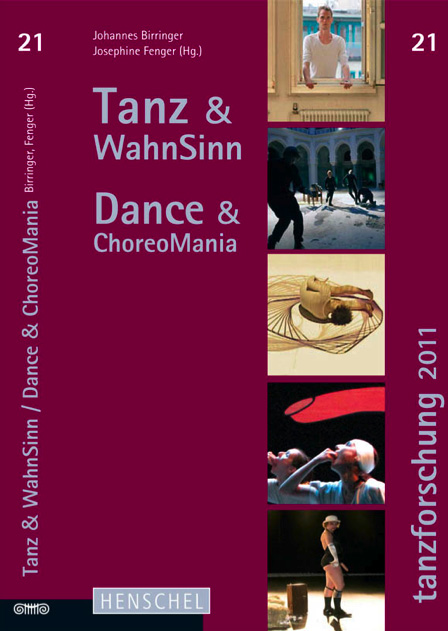 ed. Johannes Birringer & Josephine Fenger

Yearbook 21 of GTF, German Society for Dance Research.
August 2011 / Leipzig: Henschel Verlag, ISBN-10: 3894877103
In German and English. € 19,90
Throughout the history of civilization, dance and madness have been intricately linked to each other – from the Dionysian Mysteries of antiquity
to contemporary flash mobs and techno raves. Individual and collective states of exception have found expression and reflection as well as
cathartic healing through dancing. Tanz und WahnSinn/Dance and ChoreoMania presents a provocative collection of interdisciplinary studies
on dance and madness combining historical, cultural, schizoanalytic, medical, philosophical, therapeutic and artistic perspectives
that explore the phenomenon.
Im August erschien im Leipziger Henschel Verlag der Sonderband Tanz und WahnSinn/Dance and Choreomania, den Johannes Birringer zusammen mit der Berliner Tanzforscherin Josephine Fenger herausgab. Das Buch untersucht individuelle oder kollektive Ausnahmezustände, die im Tanz sowohl Ausdruck und Reflexion als auch Heilung finden, und thematisiert kultur- und medizinhistorische, philosophische, therapeutische und künstlerische Aspekte der Verbindung von Tanz und Wahnsinn (www.choreomania.org). Die Publikation stellt ein kleines Jubiläum für Birringer dar; es ist die zehnte Buchveröffentlichung des im Saarland geborenen und in London an der Brunel Universität lehrenden Autors.
Die Website zum Buch: www.choreomania.org



Publisher/Verlags-Bestellung of "Tanz und WahnSinn"
+ + +
Texte und Kommentare zum Labor 2012 werden hier veröffentlicht
Texts and commentaries on the 2012 lab and related research subjects will be published here.