Medienforschungsschwerpunkte / Research Areas
(english)
the themes for 2014 are:
"unfinished manifesto" on interactive art
hybrid forms and performer techniques
audible and inaudible choreography
flow and flow design – wearables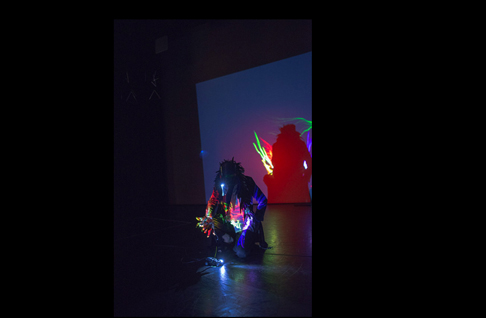 For the time being [Victory over the Sun], Sadler's Wells, 2014, Caroline Wilkins as Bird/Motley Eye in Bird costume with electro one-eye goggle, Act II wearable design concept by Michèle Danjoux, tropical rain graphics and blackbox motorcar by Cameron McKirdy © DAP-Lab/Photo: Hans Staartjes.


johannes.birringer at brunel.ac.uk
Interaktionslabor and Performance Academy

HOUSING/ WORKSHOP FEE (general)
€ 400 (payable upon arrival): Participants in the workshop will be able to stay at our Guesthouse on the campus of the Mine, adjacent to the Gray Hall lab studio. All enrolled participants will be considered in residence, and breakfast and dinner are included in the fee. The team often cooks together in the kitchen / dining room, or goes for lunch in the beautiful new cafeteria on the mine hills.
Further notes on design and performance concepts are published on this site.

Allgemeine Beschreibung des Labors/ General Description of the Lab
(english) (español) (francais)