Medienforschungsschwerpunkte / Research Areas
(english)
the themes for 2019:
wood, moss, and materials for the spine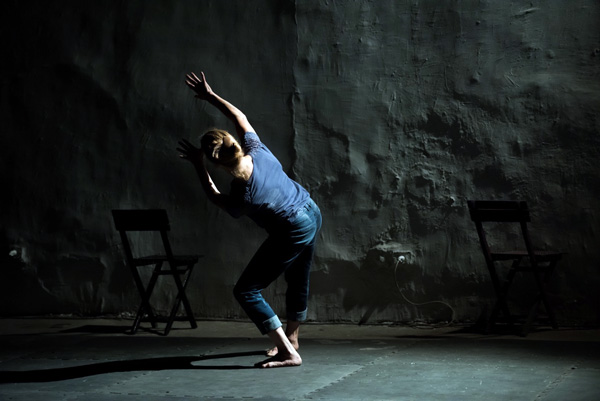 Swimming in Gravity, Steve Paxton
Interaktionslabor invites experiments in small balancing acts, between the creative arts -
writing over/with painting / photography vs. choreography,
extended wood sculpture, landscpaping.
Participants also walk, and while doing so, reflect on environments, ecology, peception, and the question Hans Jürgen Birringer sent to the lab group from his rehabilitation clinic:
"Die Erfahrung der Nichterfahrung, oder die Nichterfahrung der Erfahrung?"
(the experience of the inexperienceable, or the inexperience of the experienceable?"
This year, after a very hot summer drought, rain is expected on the weekend of July 27-28.
We shall be prepared. The first day, as all days, will interconnect forest with painting and reading/writing.
Falling up sideways
I have a walking machine
Do you have a walking machine?
You have a headset
Do I have a headset?
I have a postural threat
Do you have postural threat?
I have a chair.
Do you have a chair?
You have a chair.
Do I have a chair?
I have a table.
Do you have a table?
You have a table.
Do I have a chair?

I have a hegelung.
Do you have a hegelung?
You have a hegelung.
Do I have a hegelung?
I have a table.
Do you have a table?
You have a table.
Do I have a hegelung?
(meshwork, by Alan Sondheim)
+ + +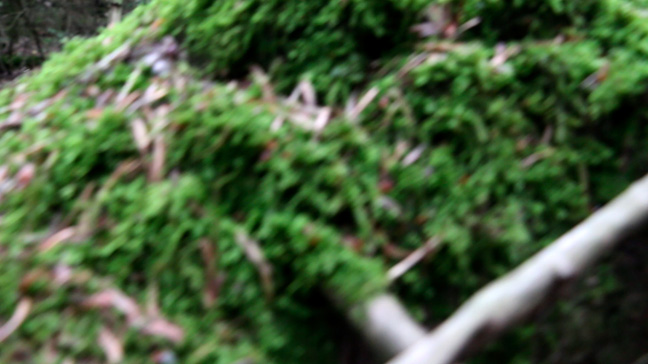 All images on these pages are by members of the Interaktionslabor. The forest excursion was filmed by Klaus Behringer and Johannes Birringer, and the moss landscapes are from the Horst forest in Schmelz.

In Japan there is a famous moss garden, Kokedera (Saiho¯-ji, a Rinzai Zen Buddhist temple located in Matsuo, Nishikyo¯ Ward, Kyoto).
The ritual of visit there is a good one: Once you arrive (at the appointed time on your acceptance postcard), you'll first have to copy a sutra (Buddhist text-like a prayer) before being allowed to tour the garden
and enter.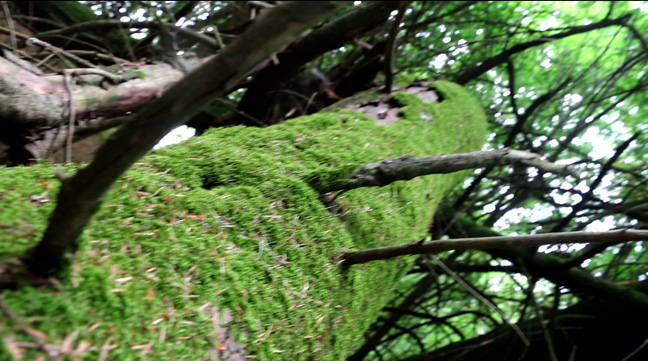 A sutra of 100 or more moss species known in the German languages is conceivable; these species name passed down from 18th century botanist taxonomy (Linnaeus):

Nickelndes Pohlmoos (nodding peat moss)
Gemeines Quellmoos (common spring moss)
Glashaar-Widertonmoos (glass hair echo tonal moss)
Einseitswendiges Torfmoos (one sided peat moss)
Nacktmundmoos (naked mouth moss)
Gewelltes Plattmoos (wavy flatr moss)
etc

One can enjoy the queer and bizarre sound of these names. Moss belongs to cryptogamic flora. A cryptogam (scientific name Cryptogamae) is a plant (in the wider sense of the word) that reproduces by spores, without flowers or seeds.
"Cryptogamae" (Greek - kryptos, "hidden" + gameein, "too marry") means "hidden reproduction", referring to the fact that no seed is produced.
Thus cryptogams represent the non-seed bearing plants...
This includes all plants with concealed reproductive organs. Linnaeus divided Cryptogamia into four orders:
Algae, Musci (bryophytes), Filices (ferns), and Fungi.....
+ + +
"I am in favor of the abolition of whiteness. I am also in favor of the abolition of patriarchy" (Arthur Jafa)
questions about blackness and whiteness will be raised, inspired by Arthur Jafa's films Dreams are Colder than Death,
Love is the Message, the Message is Death, and White Album, if the conversation is enabled by the walk in the forest..
For rehearsal footage from current development of a new dance work, go to

+ + +
Interaktionslabor and Performance Academy

HOUSING/ WORKSHOP FEE (general)
€ 400 (payable upon arrival): Participants in the workshop will be able to stay at our Guesthouse on the campus of the Mine, adjacent to the Gray Hall lab studio. All enrolled participants will be considered in residence, and breakfast and dinner are included in the fee. The team often cooks together in the kitchen / dining room, or goes for lunch in the beautiful new cafeteria on the mine hills.
When the Interaktionslabor goes off shore, as in the summer of 2015 and 2016, prospective participants can travel to the location and join up, making their own logistical arrangement for food and accommodation. The off shore workshop fee is half price. The plein air workshops will be held at Haus Tusculum, in Schmelz.
Further notes on design and performance concepts are published on this site.
contact:
johannes.birringer (at) brunel.ac.uk

Allgemeine Beschreibung des Labors/ General Description of the Lab
(english) (español) (francais)