Medienforschungsschwerpunkte / Research Areas
(english)
the themes for 2020:
Breath / De-distancing / Immunity and Community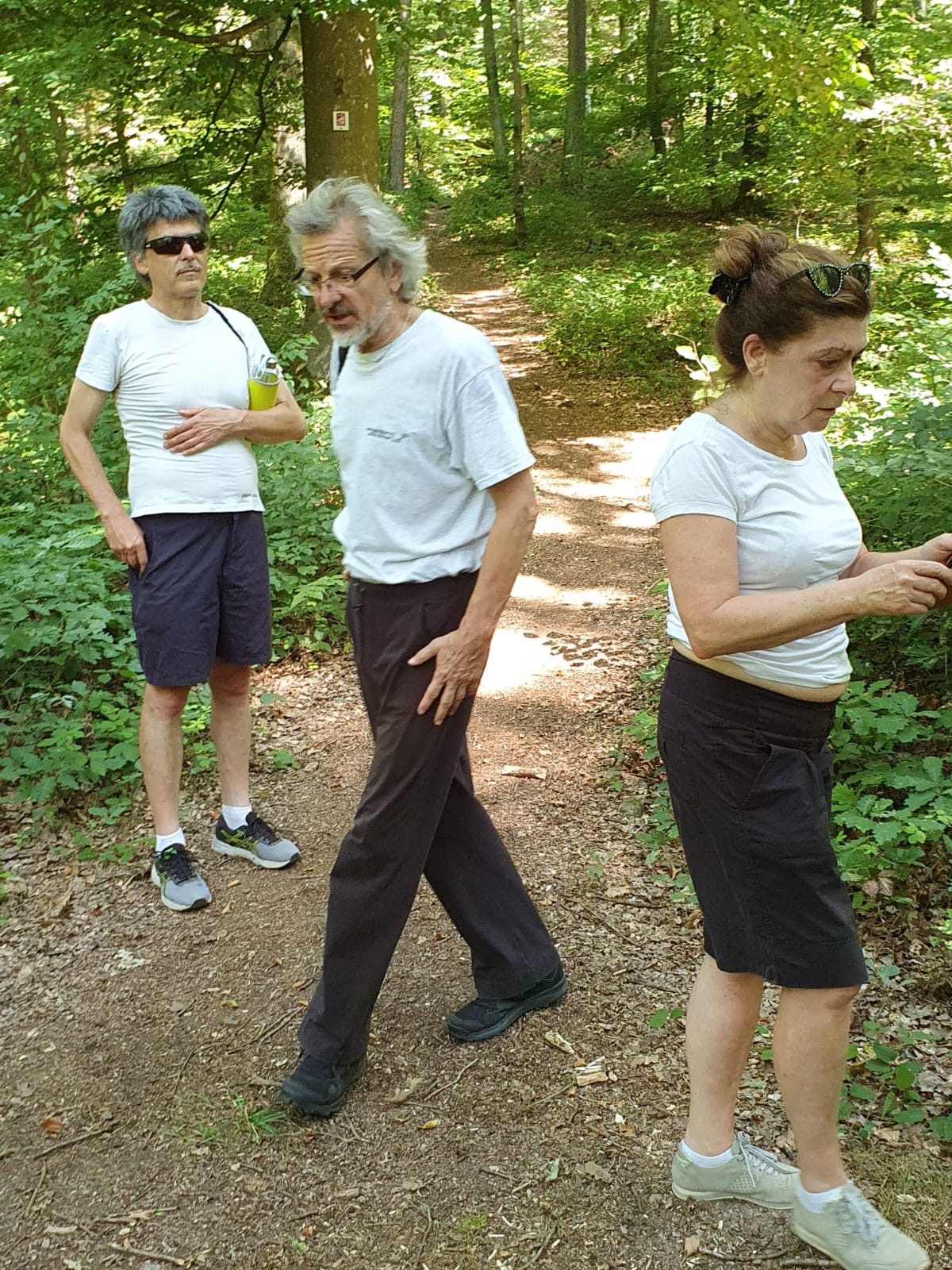 .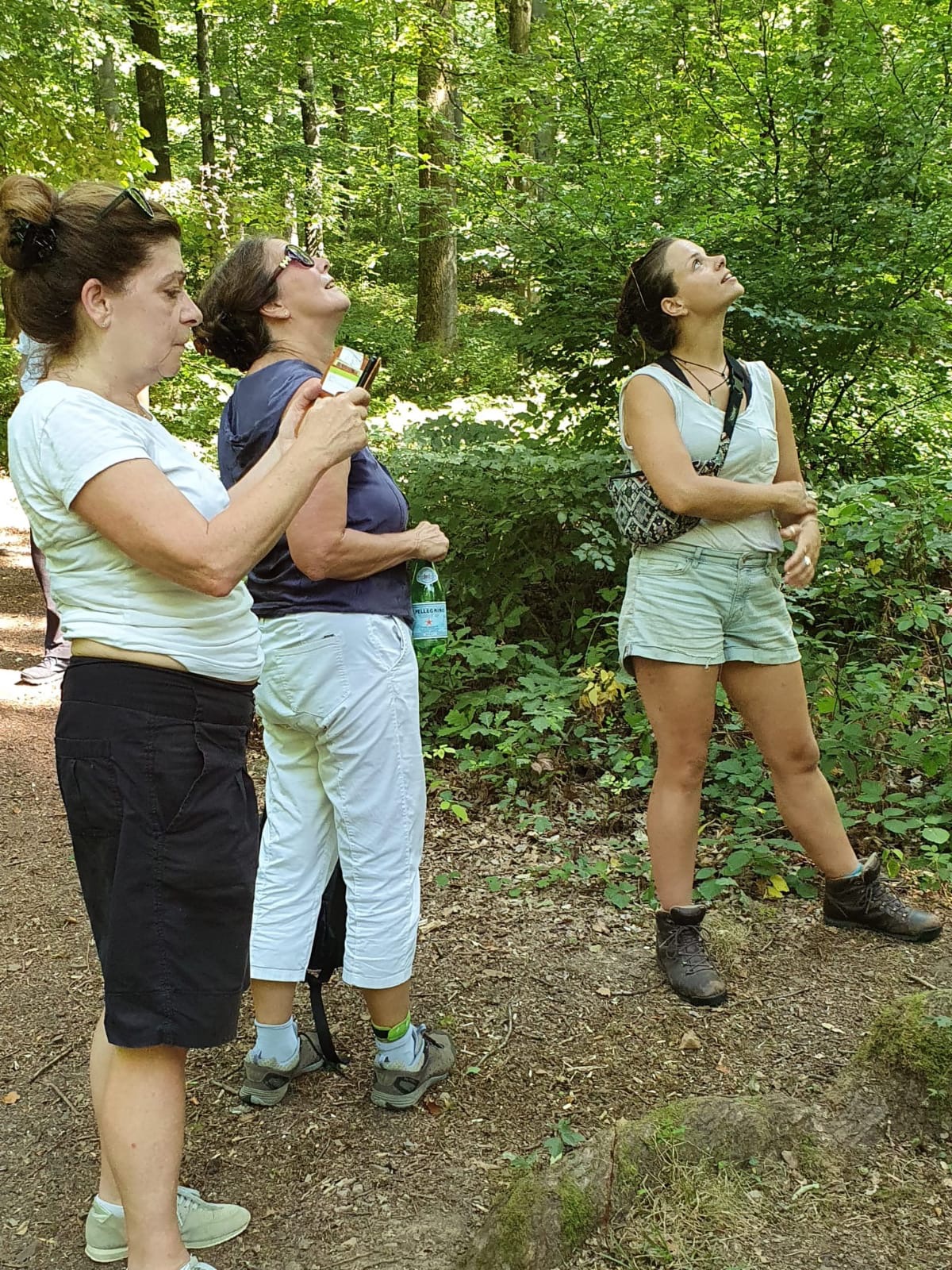 Forest knowledge excursion, Horst Schmelz, at the Alte Eiche, 2020 (c) H. Weidmann
Interaktionslabor invites experiments in small balancing acts - learning de-distancing and a new intimacy of creativity in the times of the Covid-19 pandemic,
between the arts of living and the arts of making – writing / painting / photography / choreography,
extended wood sculpture / landscpaping.
The first day, as all days, will interconnect forest with painting and reading/writing.
decarnations
1. tal (valley)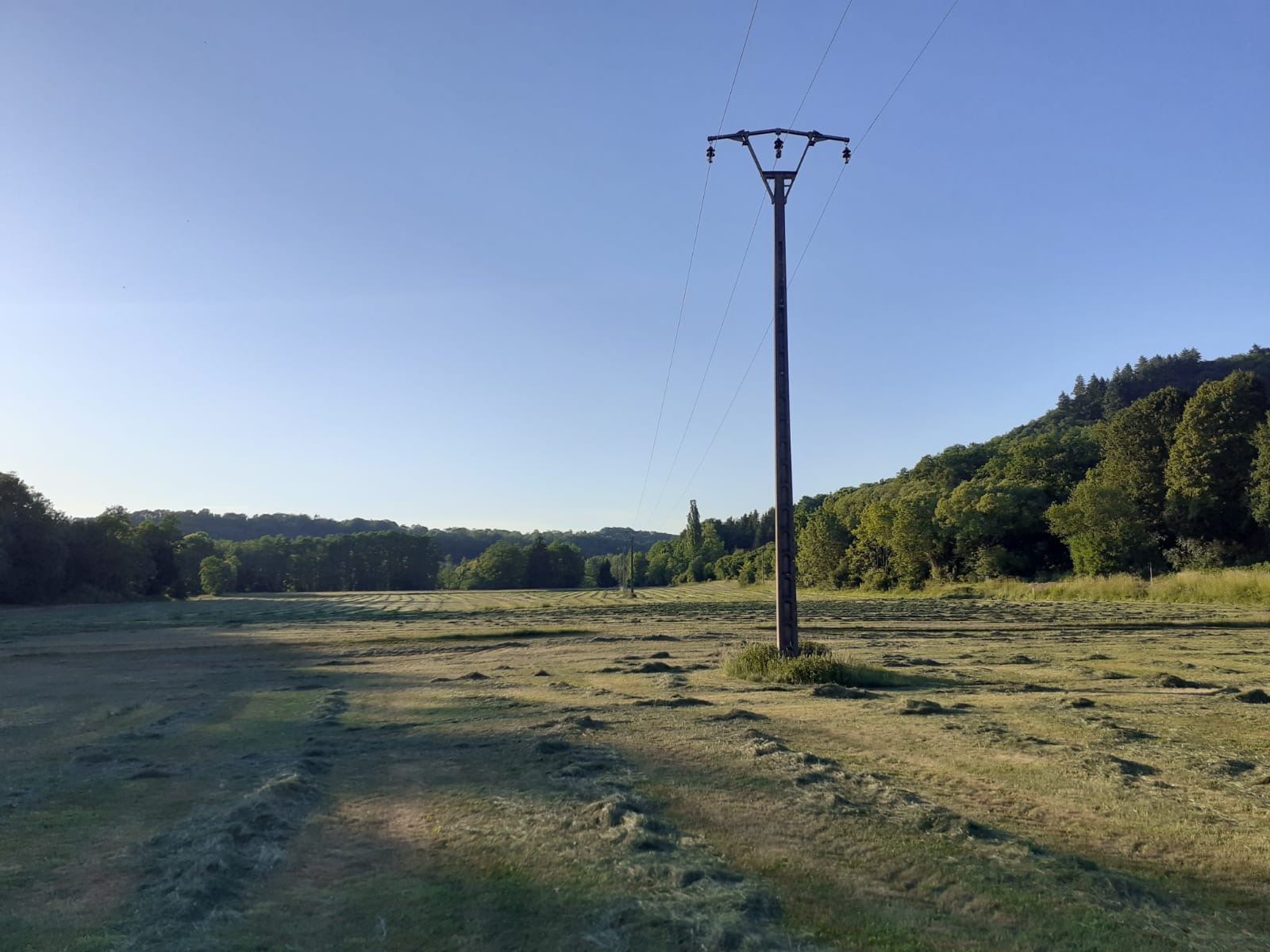 [epigraphs]

Emily Dickinson: "Hope is the thing with feathers - / That perches in the soul / And sings the tune without the words - / And never stops - at all -

Claudia Rankine: Or, perhaps, Emily Dickinson, my love, hope was never a thing with feathers. I don't know; I just find when the news comes on I switch the channel.
2. Electric Dance, or Talking to the Birds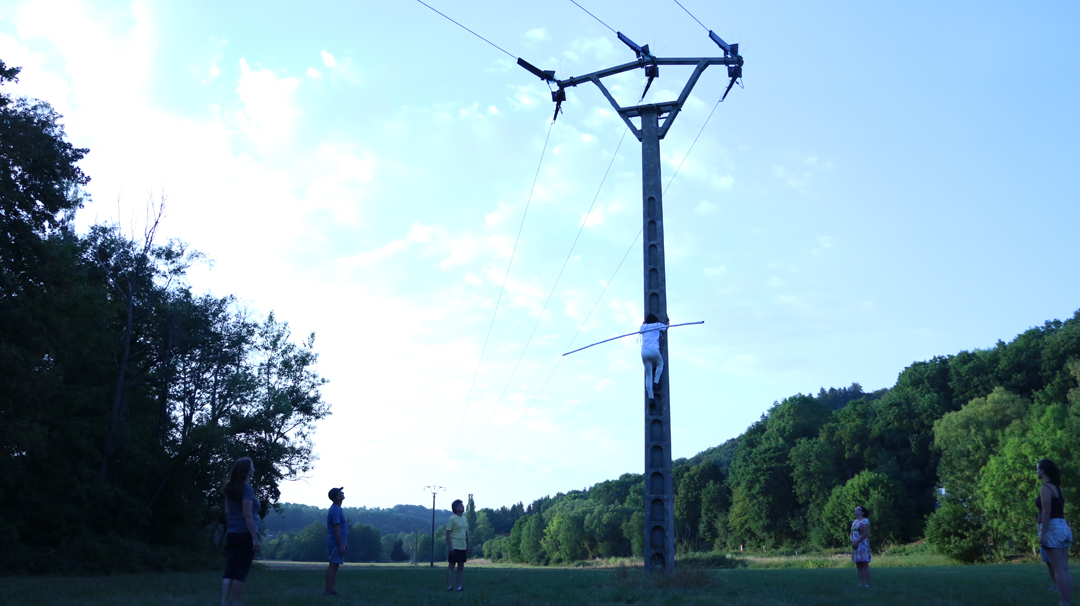 (click on the image to play film)
+ +
»stell dir vor / die haut fällt von dir ab / wie die rinde / einer anderen zeit /
am rückgrat wachsen / blätter«

»Imagine / the skin falls off of you / like bark / of another time /
growing on the backbone: leaves «
(translated from Eva Maria Leuenberger's new collection of poems, Dekarnation, Graz, Droschl 2019)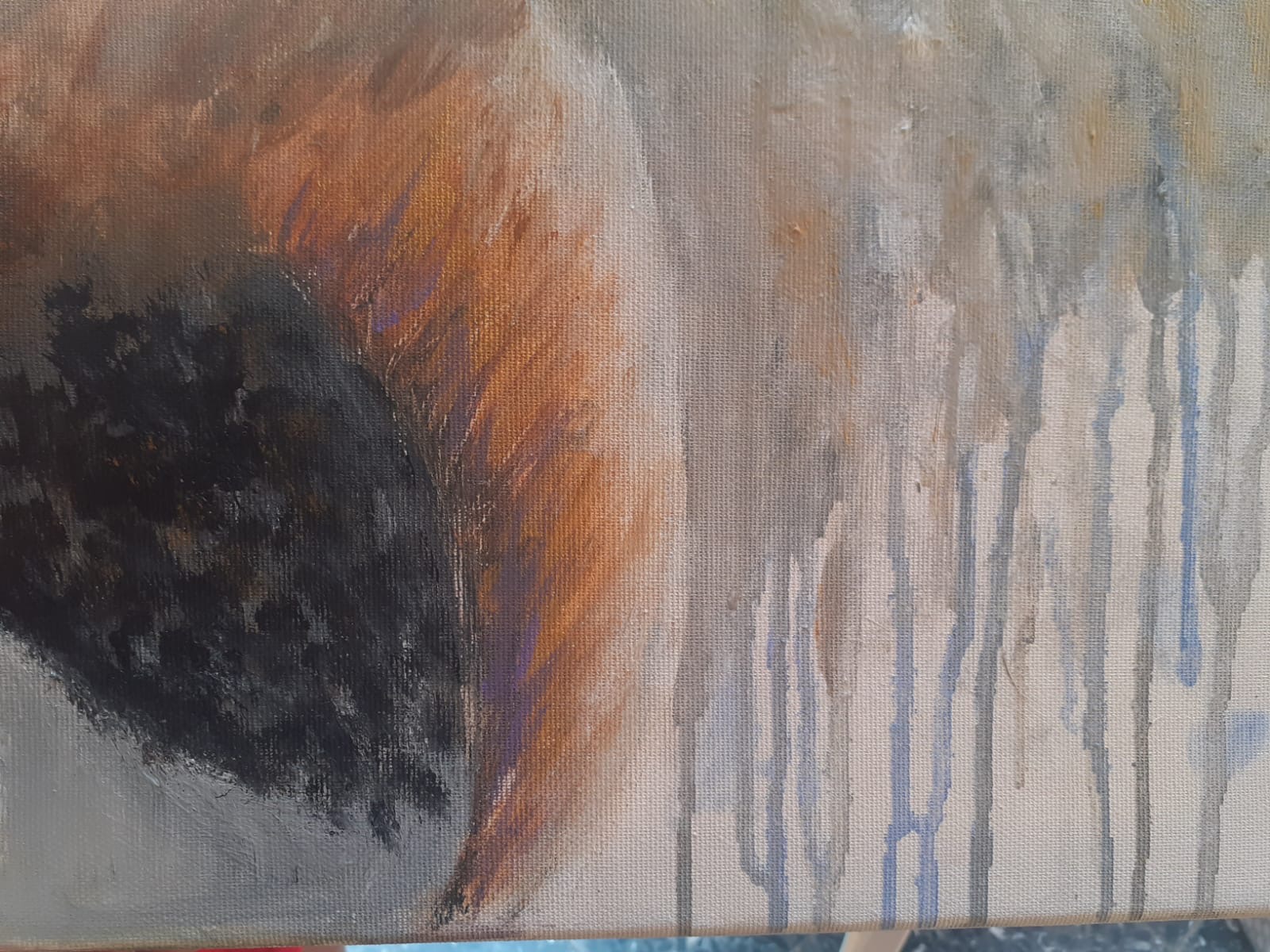 Azzie McCutcheon, acrylic on canvas, 2020 (c) Intakt
+ + +
All images on these pages are by members of the Interaktionslabor. Forest excursion and performance ritual were filmed by Klaus Behringer, Fergus Johnson, Heiner Weidmann & Johannes Birringer.
Some of the motifs and inpsirations for the painting workshop are from the excursion to the Horst forest in Schmelz.
For film footage from the premiere of the DAP-Lab's new dance work, go to

+++
Interaktionslabor and Performance Academy

HOUSING/ WORKSHOP FEE (general)
€ 400 (payable upon arrival): Participants in the workshop will be able to stay at our Guesthouse on the campus of the Mine, adjacent to the Gray Hall lab studio. All enrolled participants will be considered in residence, and breakfast and dinner are included in the fee. The team often cooks together in the kitchen / dining room, or goes for lunch in the beautiful new cafeteria on the mine hills.
When the Interaktionslabor goes off shore, as in the summer of 2015 and 2016, prospective participants can travel to the location and join up, making their own logistical arrangement for food and accommodation. The off shore workshop fee is symbolic: € 25 or bring some food or beverages and prepare to help cooking. The plein air workshops will be held at Haus Tusculum, in Schmelz.
Further notes on design and performance concepts are published on this site.
contact:
johannes.birringer (at) brunel.ac.uk

Allgemeine Beschreibung des Labors/ General Description of the Lab
(english) (español) (francais)