International Interaktionslabor 2023
Images from the installation-performance at KunstTreffpunkt festival / Bilder von der Performance im KunstTreffPunkt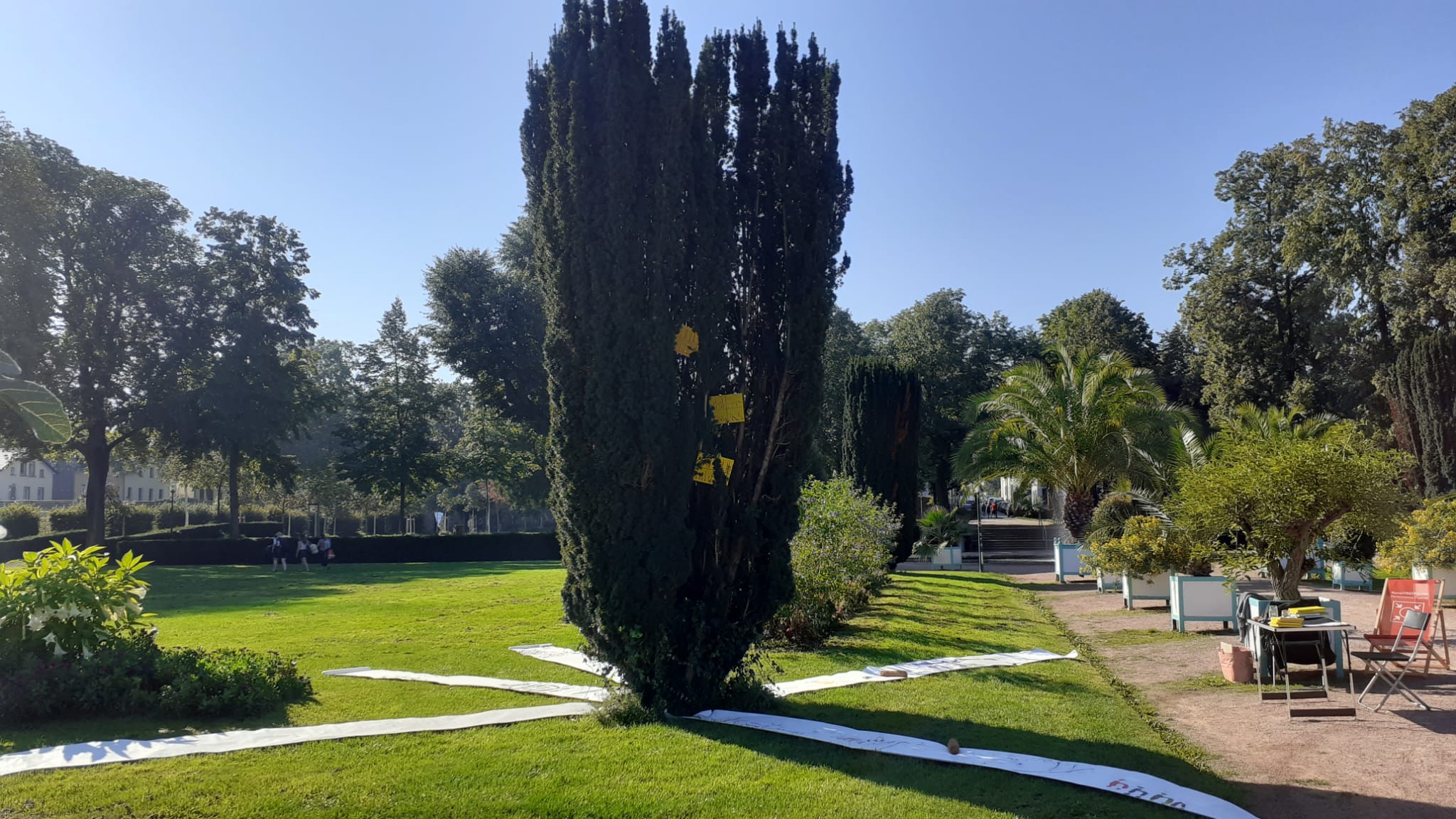 BirdSongTree-Drawings - Installation view 8 September 2023
As planned, the installation performance took place over two weekends: 1-3 September & 8-10 September, each day for 4 hoursin the public park of the Orangerie Gardens in Darmstadt, a beautiful baroque park with many exotic palmtrees and plants,.and oneThuja which appears to be ailing, some branches had died and a gap opened up in the north side of the tree.
Here the small canvasses with the spectrogram drawings of various birdcalls were installed inside the tree, along with a hidden loudspeaker that could emit the birdcall soundtrack I had composed (24'). The sound track compiled local birds that I recorded in my garden, as well as a series of birds that are local and also live in other countries and regions, such as the notorious Australian lyrde bird that has the capacity to imitage other birds and other sounds. I also became aware that inside the Orangerie a flock of Canadian geese had stopped during their migrations, and the family became a loveable partner in the installation and the various visitors that strolled through the park on weekends - elderly pensioners, couples in love, families, fathers or mothers with small children, mothers with prams, yoga classes, gymnasts, volleyball players, bikers, elderly boule players, single folks wanting to sun tan or read a book, freshly wedded couple that arrived with photographers to have shots taken in their high costume, surfers, and skaters, young sportspeople playing on the lawn, sophisticated students learning for their new semester projects, city officials, and homeless people taking a stroll.
What can BirdSongTree do for all these various constituencies that may, or may not, be interested in stopping for a moment or for a while?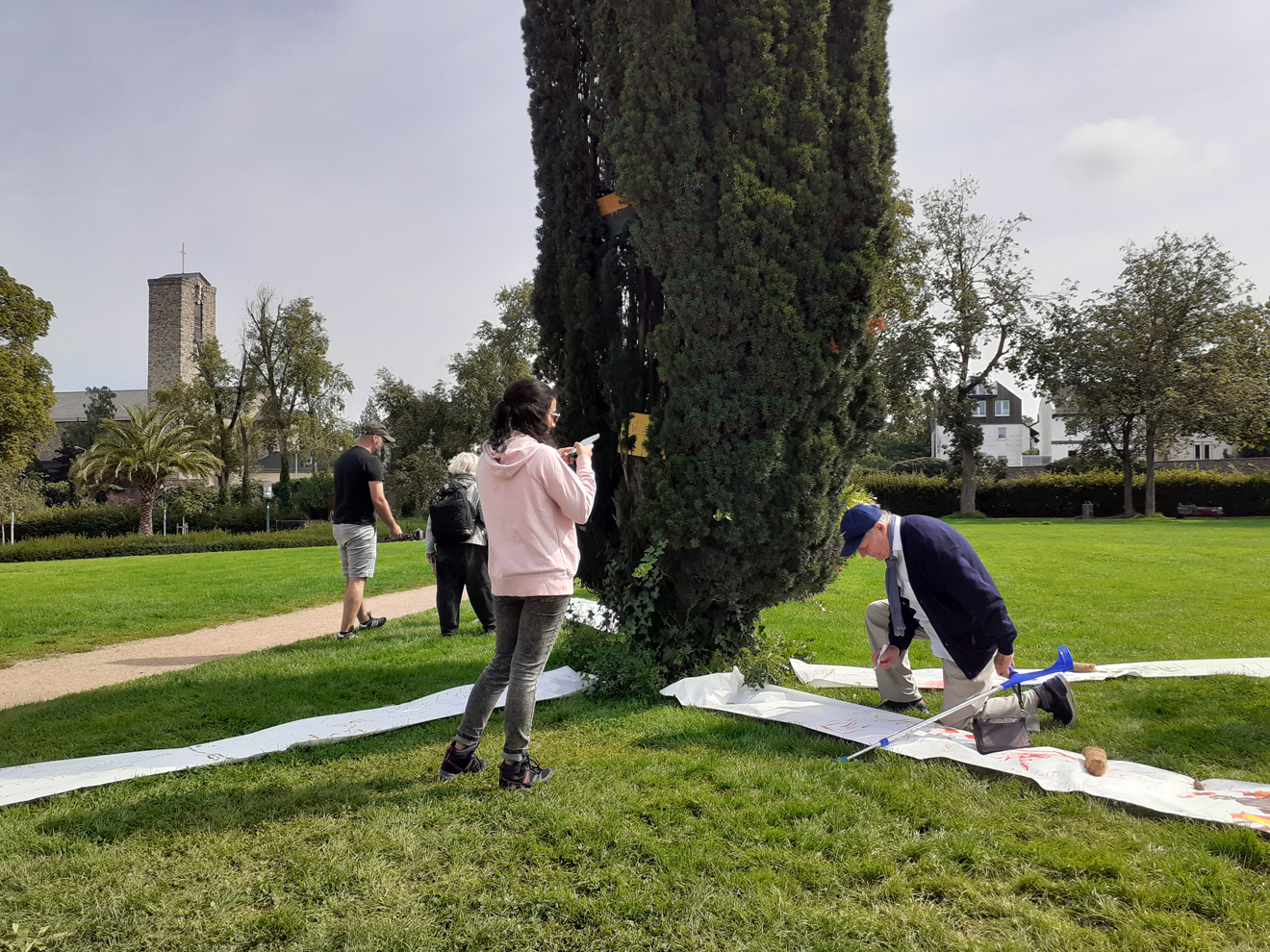 .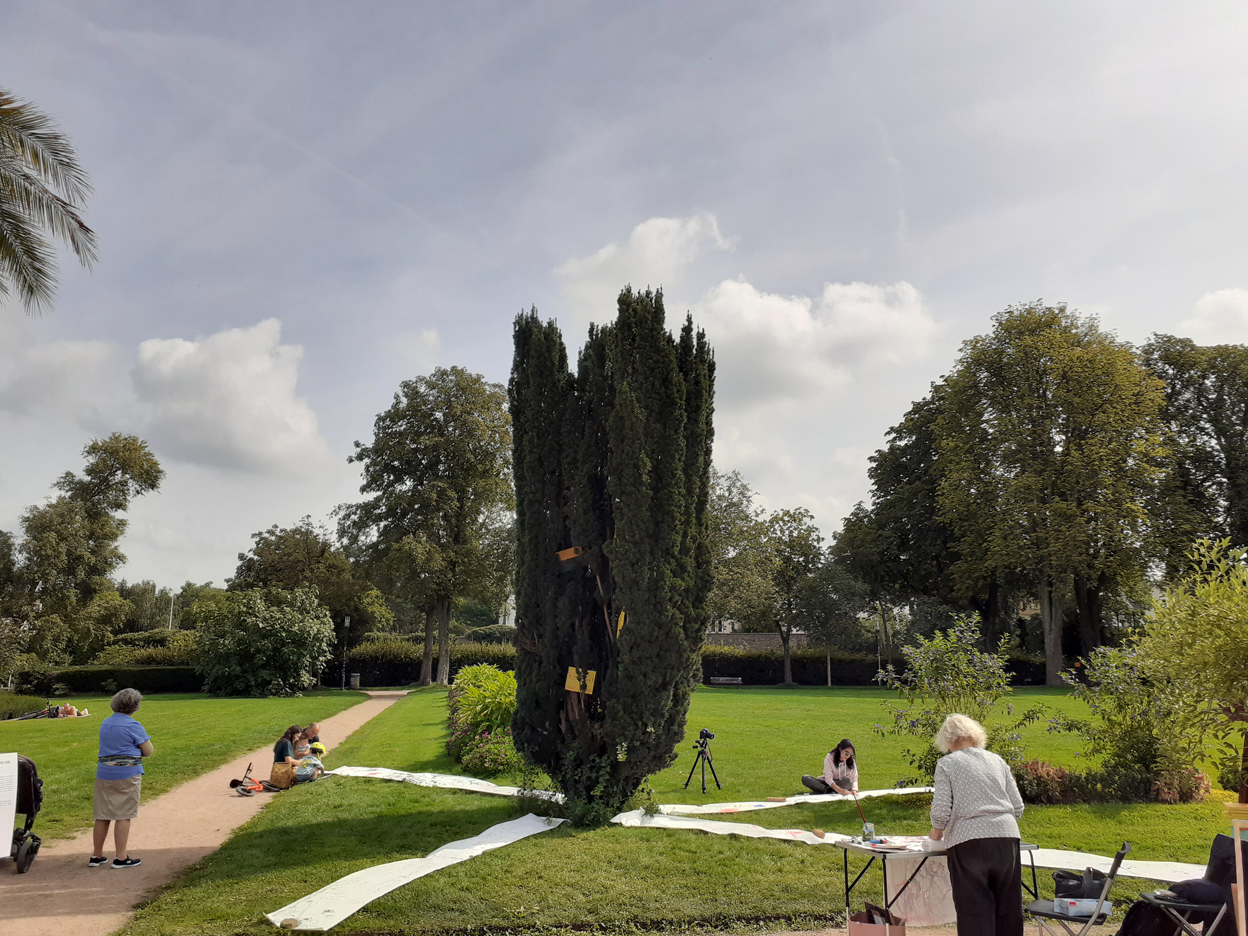 .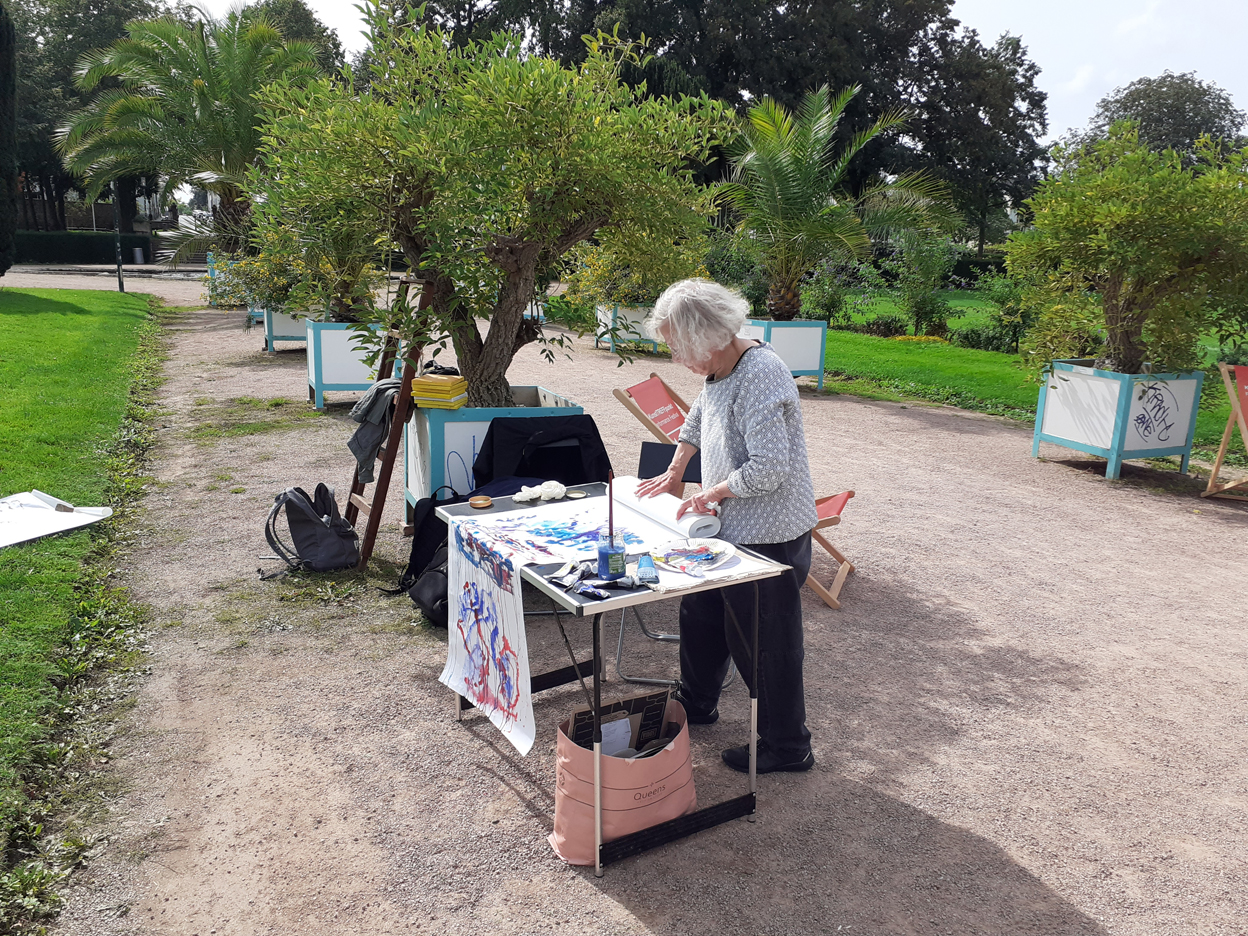 BirdSongTree-Drawings - with visitors interacting. Installation view 8-10 September 2023
And how does one reflect on the encounters which took place during these two long, hot weekends (there was a heatwave in Germany)?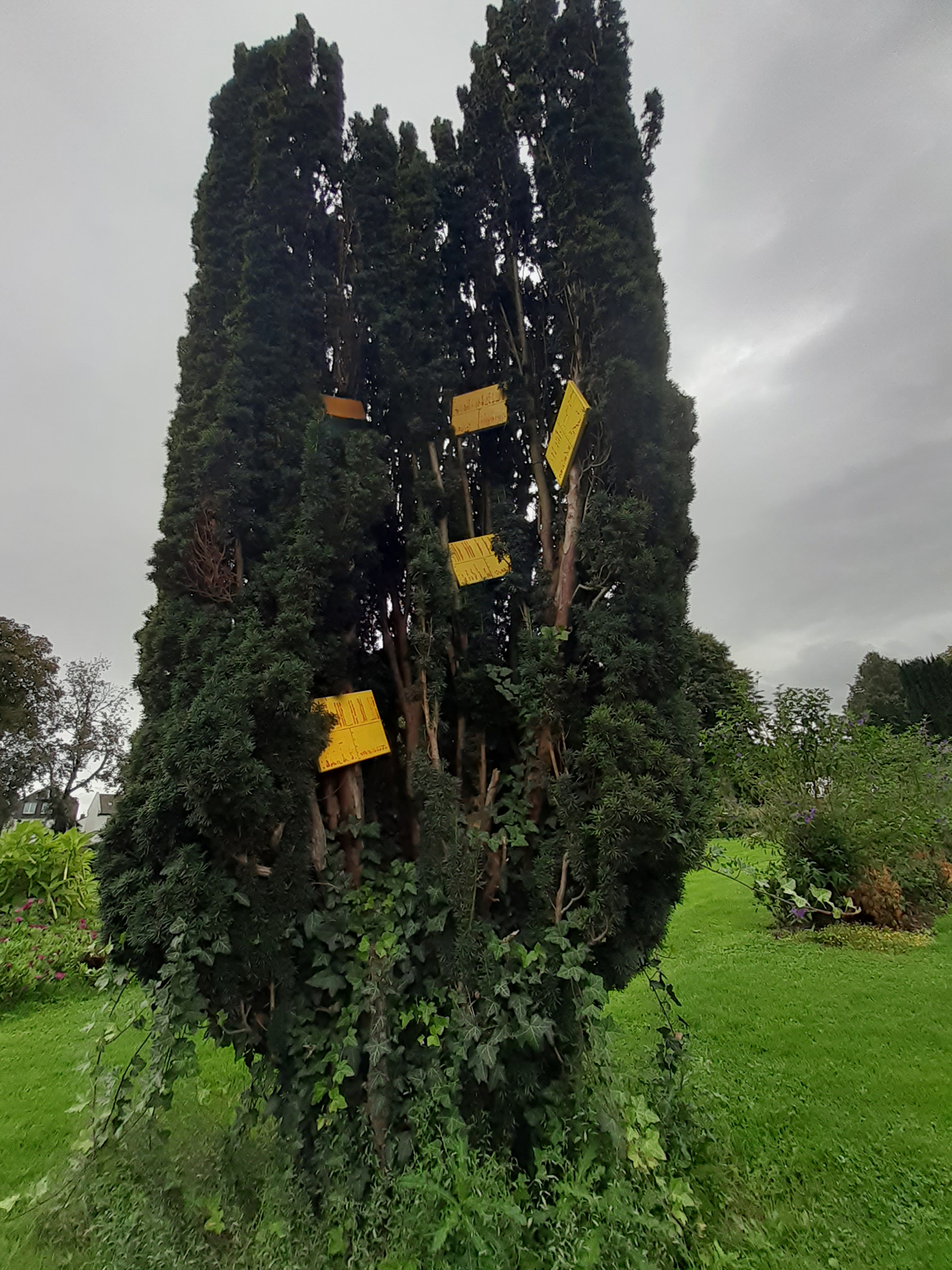 BirdSongTree - Installation view at the opening day, 1 September 2023
A short report after the event
"BirdSongTree - Drawings" had over a hundred visitors who came and joined in the drawings that I had invited people to make (listening to the birdcalls).
Quiet moments changed, when families and walkers and joggers came past the spot in the main alley of the beautiful (symmetric) baroque garden.
It was intense, there were old and young people; the youngest painters two 2-year old twins.
It was hot, the sun on our bodies for many hours a day.
One father, heavy-metal man dressed in black, with silver chains, encouraged his tiny daughter, who was too shy and did not want to paint, pressing herself aginst her father's legs. An hour later he was back: she now wanted to paint, her curiosity had won. Another small girl came with her father, and started to paint. After a while, he offered to get cold lemonade and walked off.
He was gone, and I am alone with the 10-year old, who turns out to be a passionate young artist, requesting fresh clean brushes, more acrylic, more brushes, different colors, and she paints for half an hour. Then her mother shows up, who had done a public yoga session that morning in the Orangerie Park, not far from our tree. She seemed pleased with her daughter, and not surprised.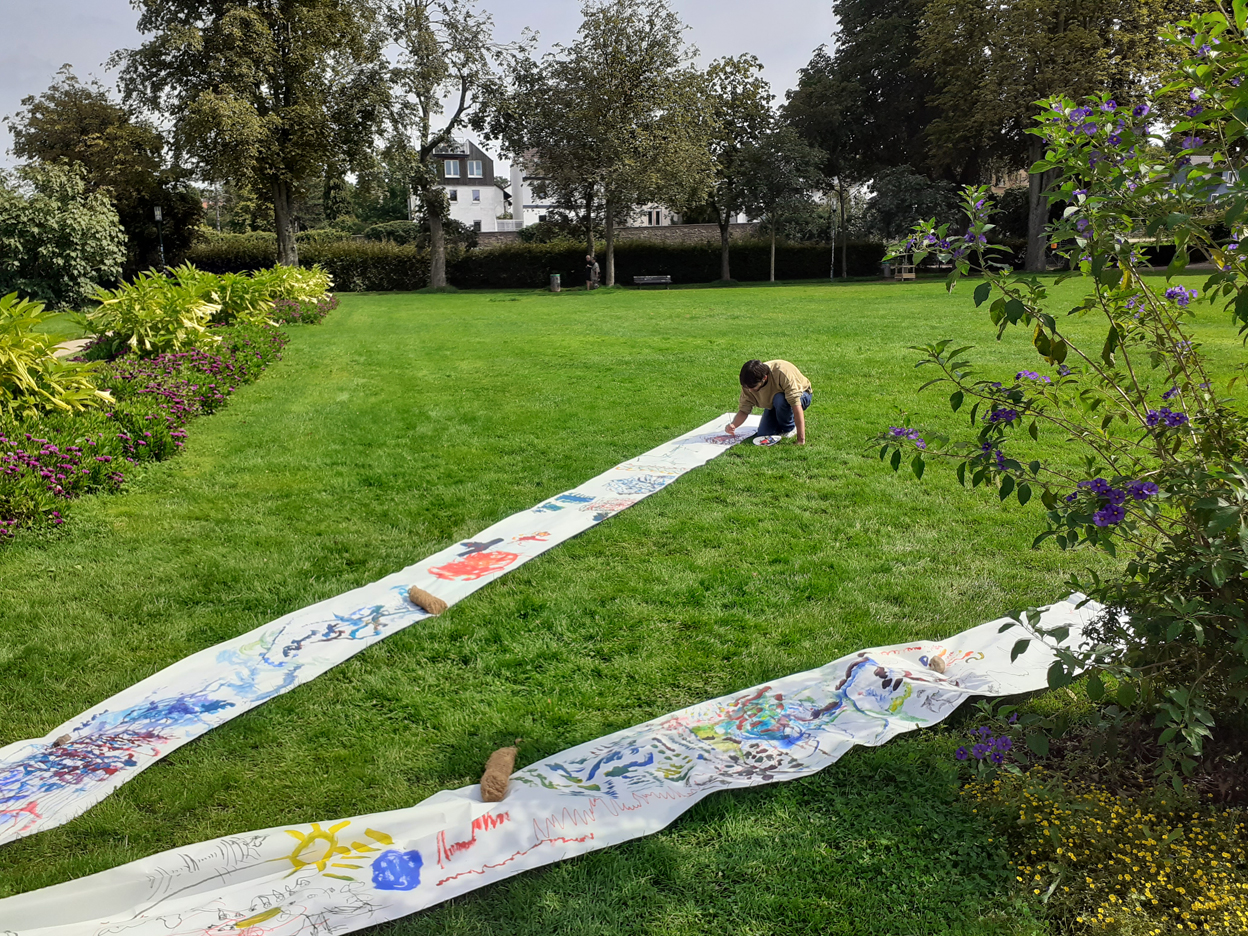 .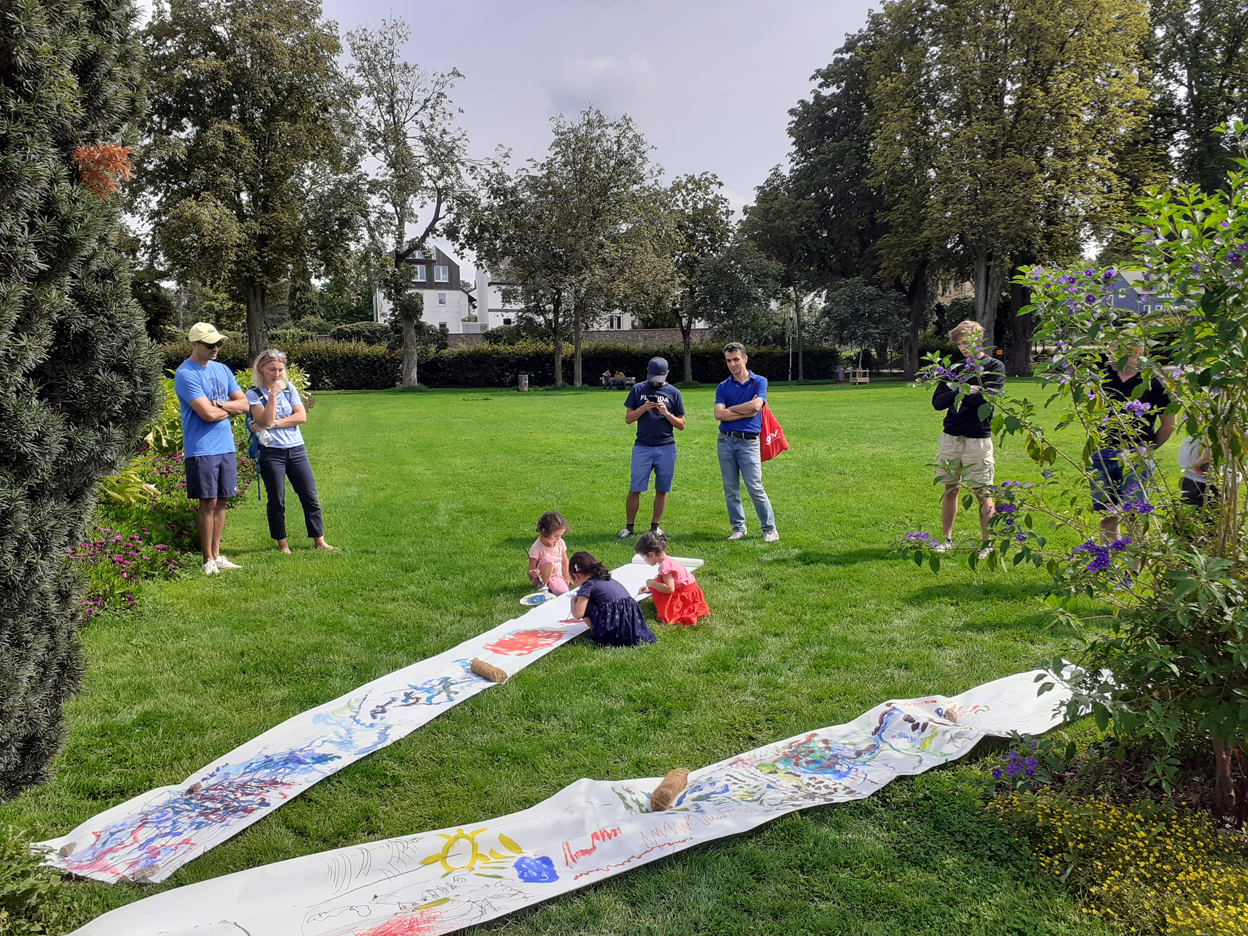 BirdSongTree - Drawings: Installation view 3 September 2023
Many who came also lingered, wanted to talk not paint, and I was to listen to quite a few people pouring their hearts out. Not sure whether the birds and their calls caused this effect, of whether people were lonely and so-called nature/community art invites such social--psychology moments in participatory scenarios: engagement, conversation, interaction. A true Interaktionslabor without any new media technologies and internet connection.

Not used to this form of mild animation of the public, the passers by. I must say perhaps I prefer dance and the theatre stage, where I do have to talk to everyone. On the other hand, the social experience as well as the choreographic potential of the experiment have been most stimulating.

Yet at he end I am tired (from the heat), mentally exhausted, and also inspired and pleased by the responses. The forest art and nature festival of course brinsg along its own eccentricities. I don't generally work with the kind of artist-producers one meets here. The others who exhibited are wonderful and lively people, full of the strangest ideas and concepts and yet also committed to environmental activism and a care for our Umwelt and living worlds. We all enjoyed the wooden huts that the Waldkunstzentrum provided for us in Darmstadt, and the food that was cooked, and the lovely eat art performances staged by Ute Ritschel, the curator and director who had founded the festival twenty years ago. Many of the artists I met, including the nature-writer in-residence (Torsten Schäfer, author of the book Wasserpfade), seem to travel a lot, and have performed at the antarctic, in Slovenia, Scandinavia, and Nepal. One artist from Namibia was asking people at her station to "adopt a cloud" – ro raise consciousness about our cionnection to everything, the weather, plant and animal worlds, cloud worlds in the sky.

One learns a lot. During the "Artist Talks" one evening, when we were meant to talk about ourselves, our work and the concepts or processes, I was the last of four artists to had to present that evening. The audience had now already seen 300 slides and heard all the self-portraits. So I thought, this is a community art event, and I don't need to talk much about myself.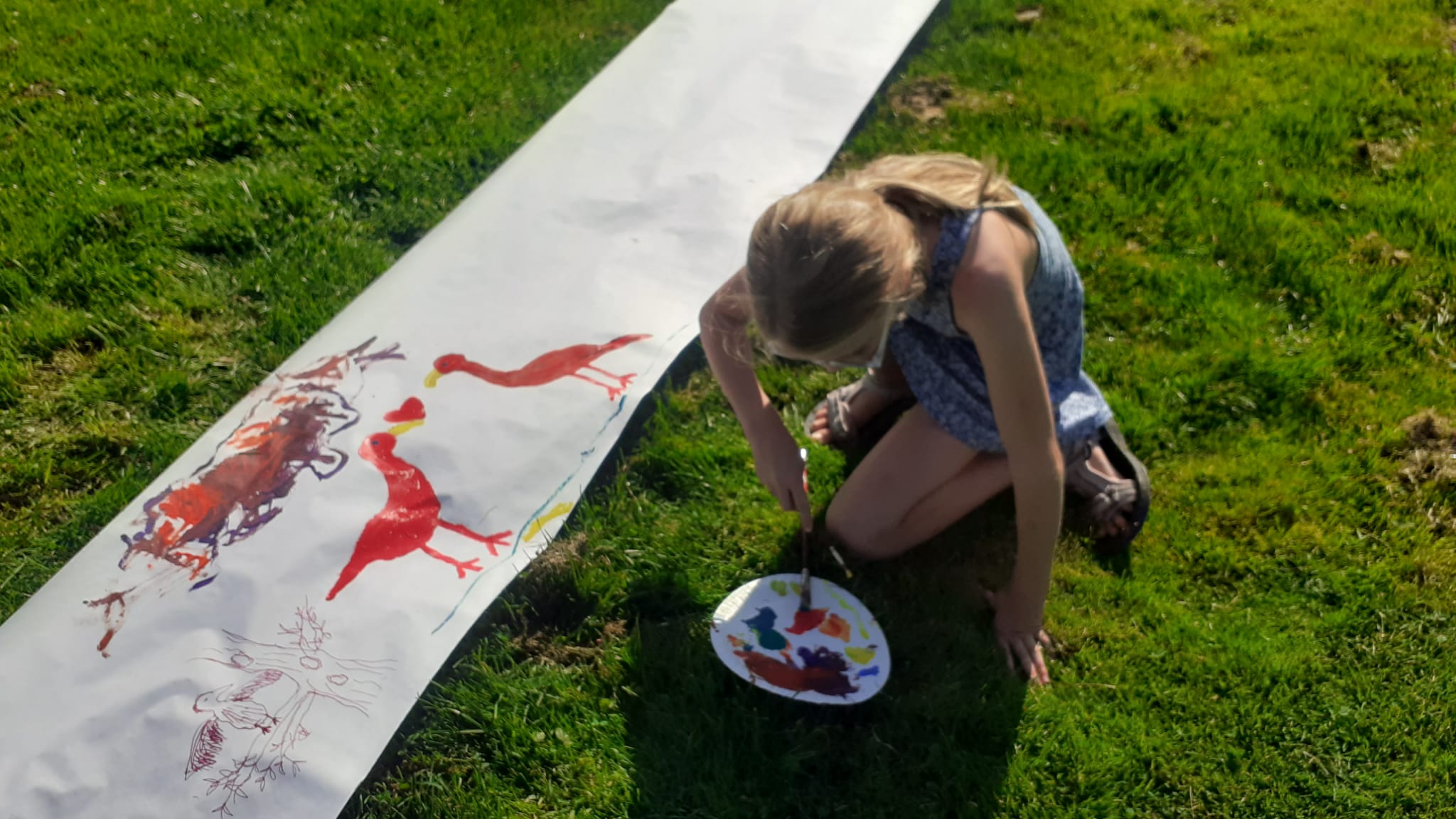 BirdSongTree - Drawings: Myla drawing flamingos, Installation view 10 September 2023

Trying to divert attention to the phenomena of interaction, I read a short story about the six days I had experienced , focussing in particular on one of the older people who had poured their hearts out to me and was most engaging and lively.
If you wish to read it, you can find it here.
September 2023, written by Johannes Biringer
* * * *
Was ist Interaktions-Kunst? Ein Manifest.
10 Years of Interaktionslabor:
Vanessa Michielon interview with Johannes Birringer

Allgemeine Beschreibung des Labors/ General Description of the Lab
(english) (español) (francais)