22:oo opening
Natalie Kolaric: Guide for the Audience
"FutureHouse"
(Marion Tränkle, Jim Ruxton)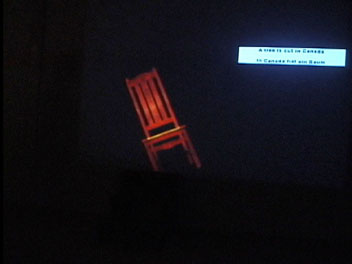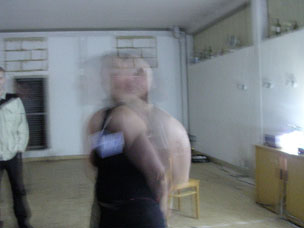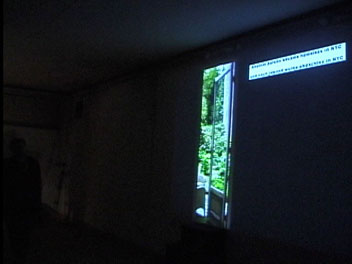 In Göttelborn, der ehemaligen Zechenanlage, weisen die Aktivitäten in Richtung Zukunft. Es wird gebaut ­ real. Ein ehemaliges Nebengebäude (Die Alte Kompensation) der Grube dient vorübergehend als Unterkommen für das Modellhaus der Zukunft. Dieses Haus kann besichtigt werden. Das Innere des Hauses ist allerdings noch leer. Die Besucher können es zum Leben erwecken indem sie einen Dialog eingehen und Wünsche, Ideen und Assoziationen zum Thema "Wohnen" äußern. Sensoren detektieren das Verhalten der Besucher und animieren eine Reaktion des Hauses mit Bildmaterial und Klang. Es entsteht eine Symbiose zwischen Theater, Installation und Performance.
Wie stellen wir uns zukünftiges wohnen vor? Wie kann das Konzept "Heim" neu definiert werden in einer Welt, in der Datenströme die physische Grenze des Hauses durchsetzen werden?
- Das Haus als Repräsentation der Welt- Das Haus als Sicherheitsraum - Das Haus mit Persönlichkeit - Das Haus als Partner, Begegnung, Interaktion
Besucher sind eingeladen, das FutureHouse am Samstag, 17.Juli, während des Tages der Offenen Tür (12 - 18 Uhr) und der Nacht der langen Medien (22:oo Uhr) zu besuchen.
In Göttelborn, territory of a former coalmine, a new "cité" is slowly being created, there is some real construction happening this year for the first time. In this project, a former electrical transformer house, the Old Kompensation, serves as a station for displaying a model of a "FutureHouse." This house can be visited. The interior of the house is empty, however. Visitors can bring it to life by entering into a dialog with the room, articulating their wishes, ideas, and imaginations, their associations with the theme of "living in the future." Sensors will detect the behavior of the visitors and animate the house with sound and image projections. In this process, a symbiosis is created between theatre, installation, and performance. The house is "peformed."
The questions that the room will put to the visitors include: how do you imagine your future living space? How do you define your idea of "home," in an age in which data streams and information make walls porous? is your house a representation of the world? A safe zone? Does your house have a personality, and what kind of personality? is it a friend? a partner? a place for interaction and for encounters?
Visitors are invited to come to the FutureHouse on Saturday during the Day of Open Doors, and during the Night of Interactive Media.
"Unstable Landscape V / SPIFF"
(Marlon Barrios Solano, Kristin Hapke)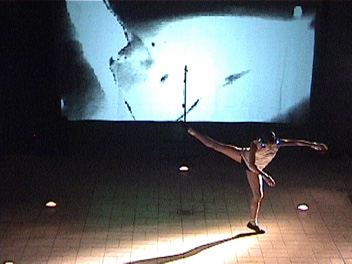 Dance Improvisation and Real-time/improvisational Multimedia Project.
Marlon Barrios Solano (dance artist and interactive media artist) and Mark Gunderson (sound artist/DJ/performance) together with Kristin Hapke (dance artist) collaborate in a performance experiment that mixes multiple elements of dance-theater, digital real-time processing/sensor driven multimedia with DJ/VJ dance party culture.
The performance evolves from our relation with the cinematic images, the constant becoming of our subjective experience towards an apocalyptic retro-futuristic digital world of patterns of light. It dwells in the clash between presence and speed, metaphors and patterns, power and control, destruction and life, love and memory. SPIFF is a forty minutes improvisational dance/multimedia piece that evolves from our relation with the cinematic images, the constant becoming of our subjective experience towards an apocalyptic retro-futuristic digital world of patterns of light. It dwells in the clash between presence and speed, metaphors and patterns, love and impermanence.
SPIFF is the last incarnation of UNSTABLELANDSCAPE premiered May 20th at The Advanced Center for Computer Arts and Design/OSU/Columbus,Ohio. In SPIFF, two dancers perform improvisational dance within a real-time interactive digital multimedia environment. The performers are their own DJs and VJs using traditional and non-traditional interfaces. I have developed a series of "landscapes" that have unique, yet changeable characteristics in both the dance and their multimedia deployment. The system is designed to offer a series of video and sound characteristics specific to each section. The options of the system are generated by the combination and juxtaposition of a limited set of real-time processes. The dancers improvise and the computer "improvises" within a preprogrammed "controlled randomness." In SPIFF", I combine the use of cameras for optic tracking and accelerometers connected to wearable wireless devices made from hacked game controllers worn by the two dancers to modify sound and image characteristics of the landscapes. Optic motion detection and tracking creates a constantly changing, yet contingent relationship between the dance and the media. Sensors are used to trigger non-linear changes on the media.
SPIFF is the result of a series of experiments on generative/interactive multimedia in which dance, digital image and sound are algorithmically manipulated creating a mutable landscape and a hybrid improvisational system.
"Ensaio sobre a cegueïra"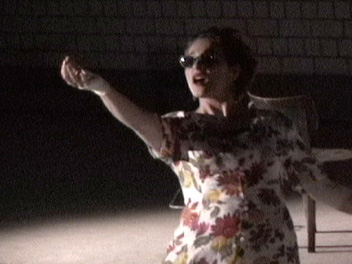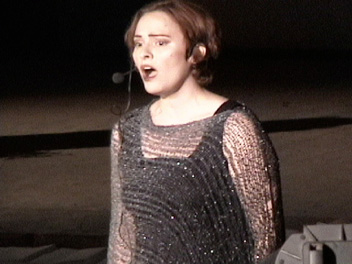 (Paulo C. Chagas, Johannes Birringer, Carrie Henneman, Lynn Lukkas, Patrick Delges, Angeles Romero, Kristin Hapke, Natalie Kolaric, Laurie Stone, Christian/Studiometis)
Versuch über Blindheit, nach José Saramagos Roman.
Eine interaktive Operninstallation
Schachtoper, Göttelborn, unter derm Schachtturm IV Samstag, 17. Juli, 22:15, Premiere Erster Akt
Paulo C. Chagas (Köln), Patrick Delges (Liège), Carrie Henneman (Minneapolis), Lynn Lukkas (Minneapolis), Johannes Birringer (Houston), Angeles Romero (Columbus), Natalie Kolaric (Saarbrücken), Laurie Stone (New York), Christian/Studiometis (France).
Bei diesem experimentellen Versuch handelt es sich um die Entwicklung einer visuell-akustischen mehrschichtigen Austellungs-Performance, die interaktive Medien (Film, Musik, Ton, Licht, Objekte), Sensoren- und Mehrkanalaudiotechnik in die eigentlich Erzeugung und Gestaltung der Musik einbindet. Es ist eine generative Welt, in der die Formen der herkömmlichen Oper mit den Möglichkeiten der neuen Technologie in Verbindung gebracht werden.
Die Partitur der Sängerin (Koloratur-Sopran) betont die Kunst des Belcanto und wird ergänzt durch elektrokustische Klãnge und elektronische Bilder, die erst durch die Handlung der Agierenden enstehen. Die Klang- und Erlebniswelt wird durch die Akteure (und in eigentlicher Konsequenz auch durch die Besucher der Cité) selbst hergestellt in der realen Zeit der Installation. Inhaltlich handelt es sich bei "Ensaio sobre a cegueïra" um die unerklärliche Erblindung der Menschen einer gesamten Stadt, erst von einzelnen, dann immer weiter um sich greifend von allen erfahren, und darin eskalierend, dass die Regierung alle Erblindeten in eine ehemalige Irrenanstalt einsperrt. Dort zu einem Kollektiv zusammengepresst, brechen langsam Bewusstsein, Organisationsformen, soziale und moralische Codes und Verhaltenformer zusammen, und werden durch andere ersetzt. Die Erblindung wird auch zur Metapher unserer Zeit, in der wir neue Verhaltens- und Kommunikationsformenlernen müssen.
Diese Austellung, die hier nur in einem ersten Stadium des Experimentes geprobt werden kann, soll weitergeführt und bis Ende 2004 entwickelt werden, um dann einer grösseren Öffentlichkeit gezeigt zu werden. Besucher sind eingeladen, Auszüge aus dem Ersten Akt der OpernInstallation am Samstag, 17.Juli, der Nacht der langen Medien (22:oo Uhr) zu hören und zu erleben.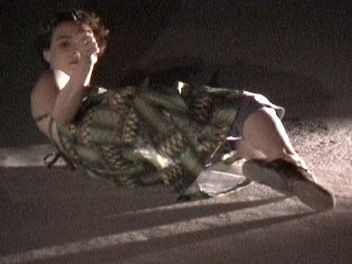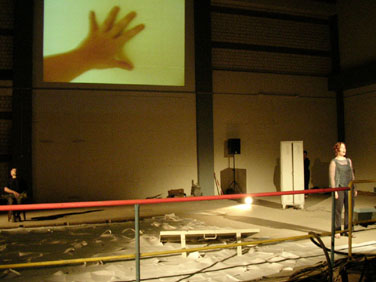 Ensaio sobre a cegueira is a multimedia opera model developed in the framework of the 2nd International Interaktionslabors for the Schachtoper/Machine Turbine Room at the Coal Mine Göttelborn.
A work in progress, this first version of several scenes from the new interactive opera installation is created with a unique multi-channel sound environment and combines live voice (soprano), processed voice, chorus, acting and dancing roles and film projection, and the performers participate in the live synthesis of the music and sound environment through interactive sensors. The theme explored in this opera (with a libretto adapted from José Saramago's novel "Blindness") involves different kinds of blindness: physical, emotional and political.

The model is first conceived for 2004-05 as a digital sound-film installation; the prototype will be exhibited in 2005 at music und electronic art festivals. In 2005-06 the new work will be redesigned for a full stage version with orchestra and soloists.
"Do U C Me You Recycled"
(Marija Stamenkovic Herranz)
Do U C me You was created last year in the first Interaktionslabor 2003. This year the video is used as a base for 36 short videos and sounds, where these video and sound pieces represent the recycling of time past. They are trigger a structured idea that is realized randomly.
"Heisse Glut"
(Camille Turner/Paulo C. Chagas)
Heisse Glut is a collaboration between composer Paulo C. Chagas and media artist/performer Camille Turner that started last year at Interaktionslabor 1. In last year's performance, they explored the lnk between Santa Barbara, the patron saint of the miners, and Changó, a god from the Americas whose origin is African. This year the arists have continued their exploration of the work. Their research into mining history and the Göttelborn mine, through a visit to the Heimat Museum (Quierschied) and a meeting with several miners from the area, was incorporated in this video installation. After the lab, they will continuet develop the work as a full one hour performance using a live camera, a choir and percussionists.
Diese Arbeit setzt sich mit der Verbindung zwischen der Heiligen Barbara - Schutzpatronin der Bergleute - und der afro-ameriaknischen Gottheit Shango auseinander. Die Geschichte der Göttelborner Grube und die Begegnung mit den Bergarbeitern spielen in der Videoinstallation Turner's eine wichtige Rolle. Die Installation ist Modell für eine einstünidge Performance, in der eine Live Kamera, ein Chor, und Perkussionisten mitspielen werden.
"Rust"
(Paul Smith)
"shedding"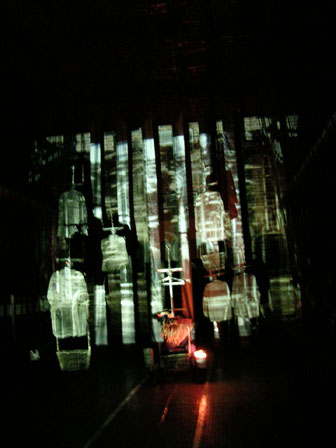 (amorphy.org - Ash Bulayev & Tzeni Argyriou -
in collaboration with Patrick Delges, programming and sensor design
conclusion:
New films from the opening night showing of works under construction will be presented on Sunday evening at 18:oo at the k4 galery of contemporary arts in Saarbrücken