Capture, Wearable Design and Interface Lab 07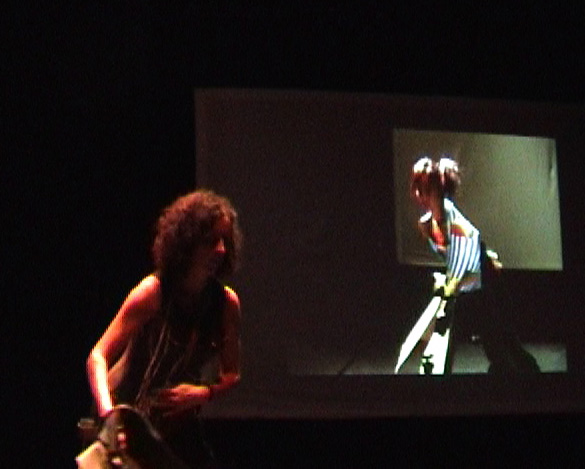 (I)
"Design in Bewegung: Prototypen intelligenter Kleidung in Kunst und Medien" / CaptureDress & SensorDress prototypes of intelligent performance garments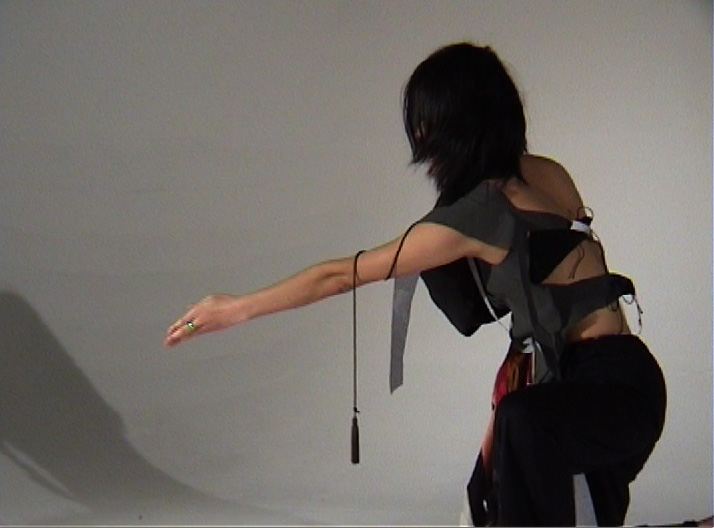 .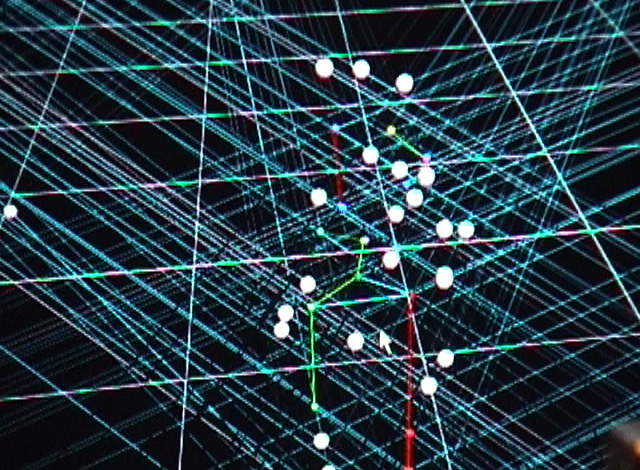 .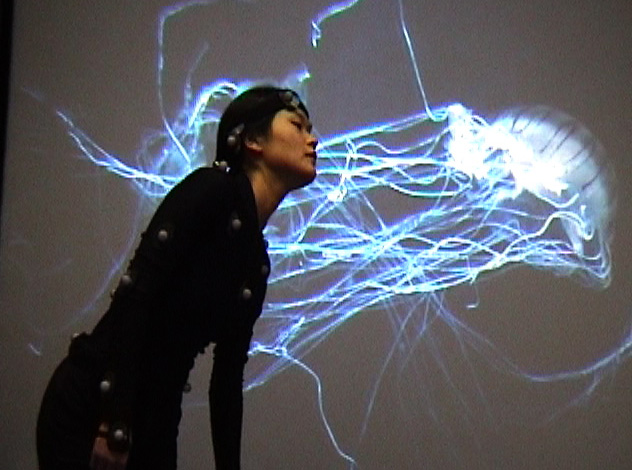 SUNA NO ONNA
Dans Sans Joux Productions

Fashion design by Michèle Danjoux
Performance by Katsura Isobe, Helenna Ren, Olu Taiwo
Sensor interfaces by Paul Verity Smith, with PD design by Arri Keesmaat
Real time sound design by Oded Ben-Tal
Digital animation by Doros Polydorou & Maria Wiener / Jonathan Hamilton
Interactive space design by Hsueh-Pei Wang

The Dans Sans Joux group is developing the new sensor prototypes for Suna no Onna, to be premiered at the Laban Centre, London, in December 2007. Suna No Onna is a movement-design performance adapted from Hiroshi Teshigawara's mysterious film "Woman in the Dunes", featuring fashion design by Michèle Danjoux and performance by Katsura Isobe, Helenna Ren and Olugbenga Taiwo. The work explores existential entrapment in an inhospitable habitat, suffused with the rapture of uncontrollable desire.
The choreography for this design work involves interactive digital animations and sound created by an ensemble of artists from diverse creative background, directed by Johannes Birringer.
Writers in Residence accompanying the project design: Scott F. Taylor (Toronto), Klaus Behringer (Saarbrücken)
Interns: David Lemm, Tina Altmeyer, Ines Heisig (Saarland)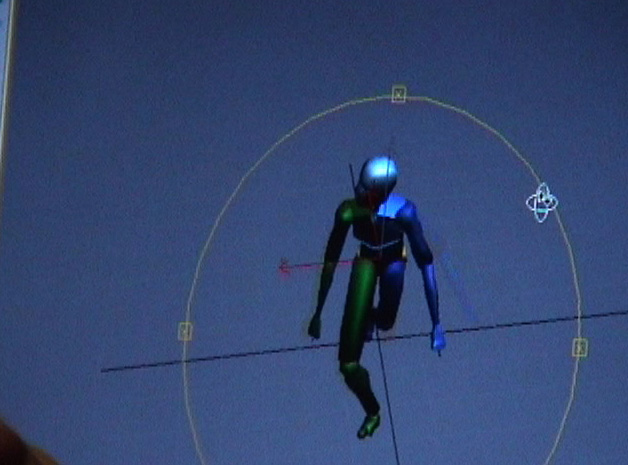 photos taken from test rehearsals at DAP-Lab, London, November-December 2006, showing Michèle Danjoux and Katsura Isobe in the Motion Capture Arena at the DAP-Lab.
(II)
DAEDALUS_ex machina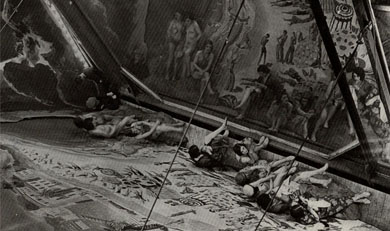 A Collaboration between Nancy Mauro-Flude (Australia/The Netherlands), http://sistero.sysx.org; Walter Langelaar (The Netherlands) http://www.lowstandart.net; Scot Cotterell (Australia) http://www.scotcotterell.com/
Concept description
The DAEDALUS Project elucidates the experience of fragmentation we encounter incontemporary modes of existence. The main character goes through motions of change and transformation in relation to the performance space; its surfaces and its depths.
Mythology tell us that Daedalus, creator of the image, constructed a Labyrinth so cunningly thathe himself could barely escape it after he built it. How does this narrative relate to spatial simulated spaces, the sensorium and the moving body? At the moment, prevalent is astrange sort of vanity based on identity and form, optical gimmicks that leads into questionable areas of so-called "media art" as scientific/physical visualization, which isbecoming more and more removed from the actual living human organism. If bodies are complex systems embedded in the environment, what does this mean when we experiencea saturation of media images on a daily basis?
In a classical 3d virtual game space we embed the formal 'documentary real-time' affecta web cam supposes, with fictional and subjective elements such as live audio, intimate gesture, and location changes spurred by the actual, real on-site locationof the performative event. The performance is in relation to human interface devices (HID) objects that are embedded with sensors, these networked objectsare spread around the stage and interface with software that allow for a comportment of physical and digital synthesis and act as sonic and visualemulators.
DAEDALUS engages with networked performance/electronic media, we are of course trying to keep the work about the concept and not about the technology, and see this as a solid platform to start a more in-depth collaboration about physical presence in its many facets.
DAEDALUS makes use of image, videogame technology, sensors and robotic webcamsembedded in a custom built site-specific environment. E.g. the actual space of Interkunstlabour we will emulate. DAEDALUS invites the audience to experience the multifaceted nature of perception with realsettings in virtual and augmented environments.
Interaktionslabor is supported by IKS IndustrieKultur Saar Gmbh, DeepWeb gmbh, Willi Meiser Computertechnik Göttelborn, intraNET Systemhaus GmbH Saarbrücken, Knecht VeranstaltungsTechnik, and Becker Malereibetrieb Schmelz.