"Peninsulae of Perception"
research into living technologies and communications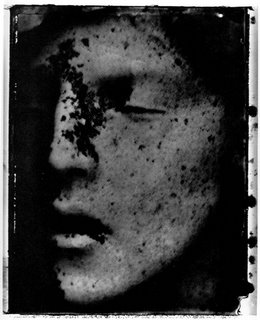 (photomontage by Paul Verity Smith)
with Liquid Penguin (guest artists in residence)
Liquid Penguin's last radio play, produced at Saarländische Rundfunk, was titled
G R A S W A C H S E N H Ö R E N : das biolingua Institut wird 100 Jahre alt (2007), and it
was awarded first prize - "Deutscher Hörspielpreis der ARD"- for best radio play in Germany in 2008; it was also elected by the ARD (Public Television 1) audiences as best radioplay 2008 and received the ARD Online Award 2008.
In November the Ensemble premiered its latest peerformance - b .o .u .t ..d u ..m o n d e / E n d e. d e r .W e l t - at the cultural center near the Euro Trainstation (KuBa ) in Saarbrücken : (featuring : Monika Bagdonaite (Viola);
Katharina Bihler (Text, Performance); Julien Blondel (Violoncello);
Elodie Brochier (Text, Performance);
Stefan Scheib (composition, contrabass).

The title 'Halbinseln der Wahrnehmung" refers to a text edited by Uschi Schmidt Lenhard and Andreas Lenhard, proposed as research libretto for investigations into differing perceptual channels and psycho-social research on autism, synaesthesia, music composition and real-time performance. The manuscript is entitled "On the Other Side of the Mirror," and excerpts (translated into english) will be publisher here. The acoustic-musical dimension of the 2009 laboratory is complemented by research into design or wearable audiophonics and acousmatic architectures and sound perceptions.
This summer workshop of the Interaktionslabor lasts two weeks: the guests who enroll will be invited to stay at the guest house locate directly next to the performance labs. This year we have been offered two sites, a smaller sound studio and a larger architecture for music and live performance or installations - the 10 KV Electrical Hall. The workshop includes research, investigations, rehearsals and computing work in the studio and the 10 KV as well as any chosen location on the Mine campus, with accommodations and a cafe/restaurant directly on campus as well as cooking opportunities for the guests. Any artist or researcher (from different backgrounds and levels of experiemce) interested in an intensive workshop experience may apply and is welcome. The participants have the opportunity to present their work or the collective outcomes at an informal showing at the end of the residency. Applications, including CV, information from past projects (DVD or dossier), and dates for planned visit, or any special requests may be sent to us by
deadline for enrollment : July 10, 2009.
Further notes on design and performance concepts are published on this site.